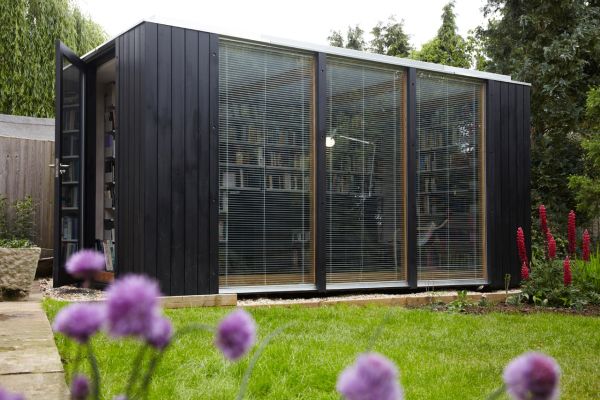 3rdSpace, a UK-based design company has been into designing and building garden offices and garden homes since it was started in 2010 by Ben Couture and Paul Grindley. They both wanted to design and create small architecture and eco-freindly building which led them to forming the company. Offices and guesthouses outside the home have become a fashion statement these days and lots of people are bringing these prefabricated modular houses to their backyards.
Recently, 3rdSpace has installed a modular library for a literature professor who was looking for a space for storing her collection of books in the Oxfordshire garden. Measuring 2.5×2.5x5m, the garden library comes in plain black and white design with black thermowood exteriors and white shaded birch plywood interiors. The main part of the unit consists of a post made from solid Douglas fir and a beam system which are secured together using mortise and tenon junctions. One side of the house is covered in glass for the light to come in, and the two other walls include shelves from floor to ceiling for the professor's book collection.
Every prefabricated modular 3rdSpace is crafted in the UK and comes with unmatched quality and great architectural design. The installation time for setting up a unit is only five days.
Via: Design-Milk/PP