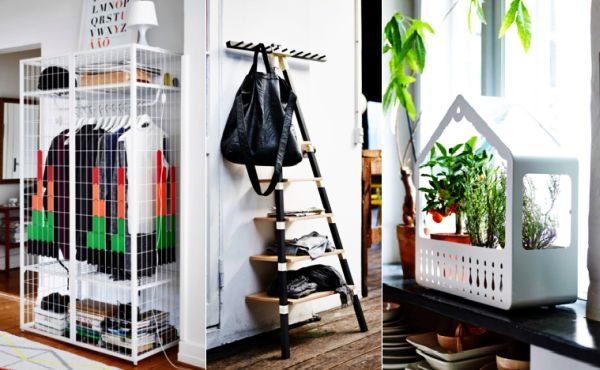 With a rise in urban population, the city area is shrinking, thus increasing the demand of stackable or double duty space saving furniture units. Keeping this in mind, the Swedish furniture giant, IKEA has recently launched its new furniture collection in Brooklyn last week. Dubbed as the PS 2014 collection, it includes various flexible furniture units that are trendy in appearance and adaptable to small spaces.
We cannot display this gallery

The PS 2014 collection consists of 51 units, which are lightweight, multi-functional and well suited for cramped apartments. For designing this collection, 20 young designers from around the world were brought in for creating democratic products that are not only flexible but also very affordable. Several units in the collection perform double duty. For example, the Brooklyn team of designers including Theo Richardson, Charles Brill and Alexander Williams designed a stool that has a built-in chargeable lamp, which could be used both indoors as well as outdoors. Along with this, they also created a coffee table comprising removable parts or stackable trays for storage purpose. A designer from Japan, Keiji Ashizawa, took inspiration from his culture and designed a tiny bookcase leaning against wall and a corner cabinet with three legs. This design is suitable for people who frequently move from one place to another. Such a furniture unit is lightweight and requires no drilling, hence can be assembled/dissembled effortlessly.
A Swedish designer, Henrik Preutz, created a foldable wooden kitchen bench by taking inspiration from Germany's beer-bench culture, while a British designer, Mathias Hahn, designed a multi-functional kitchen tool set that can be used as a storage jar, vase, or a drinking glass, so that a single kitchen product can serve various purposes. He also created a dining table from pine wood with built-in drawers for storage. A French designer, Matali Crasset, re-designed the standard Ikea wardrobe into a customizable closet to hang cloths inside or on the wires.
Overall, the furniture series includes a range of pendant lamps, cabinets, racks, stools, tables and a lot more that draw attention of urban city dwellers wanting to lead their life in their tiny living spaces in a more artistic way. The pricing the collection ranges from $4.99-$189, and is expected to hit the market on the April 1st, 2014. Check out the video after the jump.