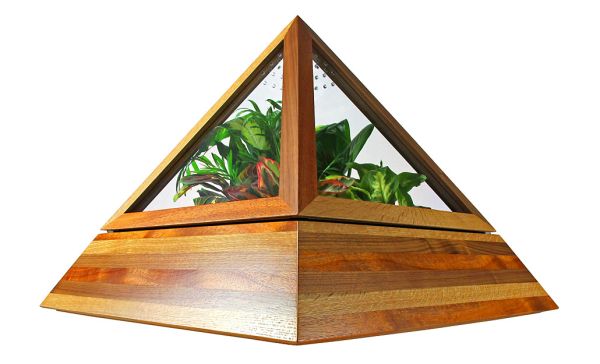 If you admire plants, but do not own a garden to show your love for them, then terrarium is the perfect thing for you. With a terrarium you can actually flaunt a little indoor garden of your own. In this small enclosed container, you can seed your favorite small plants and watch them grow. A terrarium, not only adds a little green to your living space, but also serves as great indoor oxygen booster. What if, a terrarium also serves as an ornamental piece that enhances the décor of your room? The Pyramid Terrarium does exactly this by offering a little garden under glass and looking splendid because of its awesome wooden construction and unusual shape.
The pyramid-shape top of this gorgeous terrarium is made of vented lexan polycarbonate glass framed on wood, whereas the tray that holds the soil is made of solid copper that forms an ornamental patina based on wood again. This wooden terrarium is available in three different choices of hardwood i.e. white oak, black walnut and mahogany. In order to provide ideal humidity levels within the self-contained environment of the terrarium, you will just have to slightly rotate the top. This classy Pyramid Terrarium designed by Matt W. Moore and beautifully constructed by Erik Flanagan matches with any style of the room while creating a temprature that is well suited for the plant growth.
This exclusive indoor garden is available only for US buyers at a price of $1450. Check out the video for more on the terrarium.
Via: Core-Deco