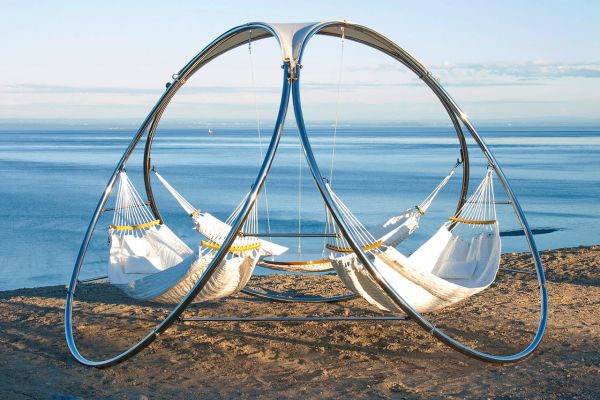 Whenever it comes to relaxation in summers, lying on a hammock under the cool shade of a tree is what probably comes to your mind. You would definitely enjoy more, if your friends could accompany you. For those who want to enjoy this summer by spending a memorable time with their friends, the Trinity Hammock is the exact item that you should get. Leaving behind the traditional hammock, the modern design of the Trinity Hammock engages three hammocks within itself so that you can enjoy and relax with two other people.
The Trinity Hammock includes a beautiful tubular structure made of stainless steel, with a hand woven hammock made of acrylic yarn suspended on either of the three sides. The center of the structure also consists of a small teak table for your convenience. The water and weatherproof structure can either be placed in your backyard or can be taken to the beach. The Trinity Hammock is available as Infinity, in which the structure appears like three conjoined stainless steel rings and Eternity that has a traditional shape and a hexagonal canopy on top. You can get each of these for around $4950.
People nowadays are trying to make their outdoors in a community living place by creating outdoor kitchens and outdoor living places. This modern trend inspired Trinity's founder and designer Gilbert Tourville to recreate an individual hammock into a place where one can relax, enjoy and also share with others.
Via: Gizmodo