There are many stylish faucet designs to choose from, some are minimal and others quite fancy. Depending on your taste and preferences you can choose elegant taps to stylize your bathroom or kitchen area. But wait! Slowly, all stylish chrome faucets start to losing their original shine and eventually become dull.
This is because of ridiculous water stains and fingerprints on faucets. However, it's really hard to get rid of these two blots, as we obvious require water and for that we need to touch the faucet. So, does that mean we should spend most of our time cleaning stained spigots to maintain their shine?
Absolutely not! We've got one simple trick for you to keep your faucets clean and spotless no matter how many times you turn a tap on/off. First of all check out the image given below to see current state of your stained tap, it might be looking like the ones shown in picture given below.

If your faucets have also started to appear the same, then you may follow this one-step hack to completely get rid of water stains and fingerprints. To begin with, you must clean up your faucet nicely to remove all previous dirt and annoying marks. After through cleaning, it's time for the final trick that is to rub some wax paper over well-cleaned faucet.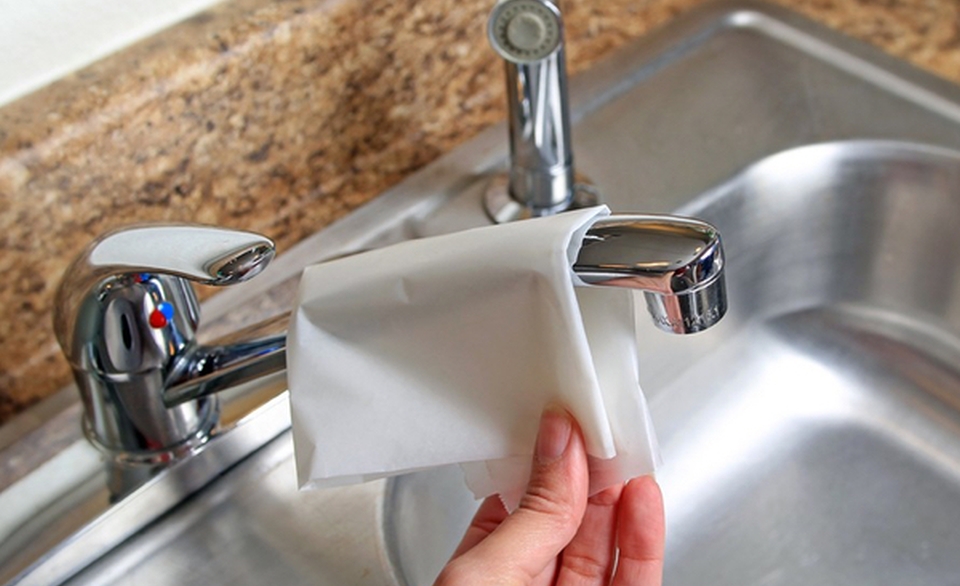 The wax paper will leave a very thin layer of residue on your chrome faucet. This magical residue is the 'hero,' which will prevent water spots and finger prints from showing up. So, with this simple trick you can save your time and spend it doing something useful rather than cleaning faucets all day.
Try this simple and easy cleaning tip yourself to see the magic. But, don't forget to share your experience with us.