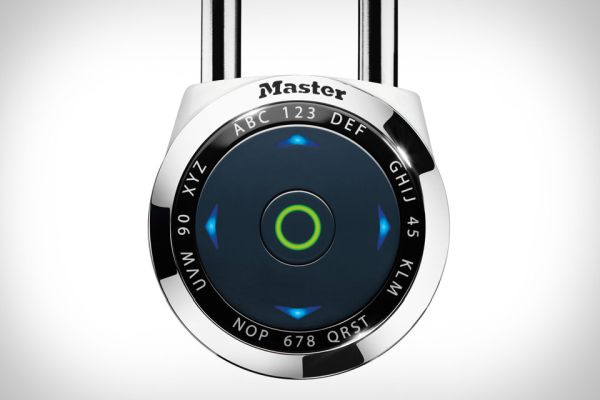 Master Lock presents the padlock of the future dubbed as DialSpeed Padlock. This lock is an electronic replacement of the traditional door lock. It makes use of an electronic directional interface in place of a traditional combination wheel offers speed, ease of use, & multiple personalized codes.  Even if you forget your own code, you can easily access the lock using the permanent backup master code. This lock takes the security system to the next level. The only drawback of this lock is that it can only be used indoors where it is safe from getting wet.
[nggallery id=376]
If you are using the DialSpeed Padlock, you would not have to be bothered about remembering any combination codes. This lock uses a combination of just four "characters" – an up, down, left and right arrow, which are displayed on the backlit keypad of the lock. The arrow combination represents the actual group of letters and numbers of the code. This combination of arrows can be easily memorized by the user rather than memorizing the entire group of letters and numbers. Moreover, in case the user forgets the arrow combination, he/she can easily log on to the Master Lock website to reclaim the factory set code. The user can set up to three personalized combinations, so that the same lock can be used by different people.
This electronic lock comes with brilliant features, but with a limitation of being used only indoors and in dry places. The DialSpeed Padlock is powered by a CR2032 battery, which needs a replacement after every five years. The low battery indicator will remind you of getting a new battery for the lock. The shackle of this lock is made out of cut resistant hardened boron carbide and so it is for sure safe from thieves who use bolt cutters. You can get it from the company's site for a cool price of $24.99. For more information, take a look at the video below.

Via:
Blessthisstuff