A team of researchers from Imperial College London, University of Cambridge and Central Saint Martins are working on a new technology to generate energy from photosynthesizing micro organisms. Recently, they have successfully inkjet-printed living Cyanobacteria onto a piece of paper to show that these micro organisms can survive the printing process and harvest small amounts of electrical energy through photosynthesis later. They are describing it as Living Wallpaper for future homes that can provide renewable energy, work as an environmental sensor to monitor air quality, and also be utilized to create bio-degradable health products.
Dr Marin Sawa, a co-author from the Department of Chemical Engineering at Imperial College London, said;
We think our technology could have a range of applications such as acting as a sensor in the environment. Imagine a paper-based, disposable environmental sensor disguised as wallpaper, which could monitor air quality in the home. When it has done its job it could be removed and left to biodegrade in the garden without any impact on the environment.
Also Read: Why you need to consider Tesla Solar Roof for your home
To employ the ability of cyanobacteria and other algae to use photosynthesis to convert light energy into electrical current is termed under microbial biophotoltaics (BPV). If a bio-solar panel in size of an iPad is built using this method, it could be able to power a simple digital clock and a small LED light bulb. Definitely, it's quite a remarkable task to find new sources of renewable energy, but until now there was no inexpensive method to make BPVs, but this research has shown that inkjet-printing can be a great method to scale up this technology to an industrial level.
According to the team, if this innovation comes out on a larger scale, it would not only pave the way for a new type of renewable energy, but also help a lot to create cost-effective and eco-friendly disposable power supplies for paper-based sensors to monitor patient's health indicators with ease. For modern homes, it would be an attractive centerpiece that can harvest energy while freshening up air.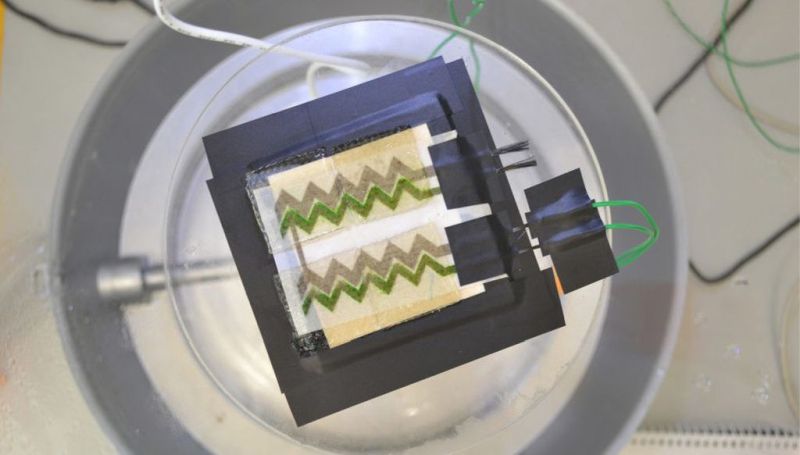 Via: Nine