Italian industrial designer Monica Graffeo has created soothing bathroom lineup called Hamman for Rexa Design. The Hamman collection is influenced by Japanese bathroom, and features various minimalist and functional aspects to provide you ultimate bathing experience.
Regenerating sensory experience, the minimal bathroom collection includes washbasins, clay-smeared bathtubs, paneling, partitions, floors and shower trays, and connotations from Corian. Each bathroom fixture is a combination of baked clay, soft-colored materials that are coated or declined in planks and tiles. Furthermore, these bathroom fixtures are covered with velvety white Corian or polished marble finish.
Aim of the entire collection is to bring back the authentic atmospheres of the Hamman and of the Onsen – Japanese comfortable bathrooms to rejuvenate senses. This multisensory collection consists of modular systems, offering total freedom of expression through simple designs draped in subtle colors.
Hammam is likely to relax both your body and mind, with the combination of water and vapors. Moreover, sweet fragrances, soft light, silence and elegance will form a serene environment. The scattered light combined with warm colors will make you feel as if you're surrounded by wilderness.
The washbasins made in Corian are available in three dimensions, whereas bathtubs have coatings or parts of it in spread clay. Hammam collection will be showcased at Salone del Mobile 2016 in Milan, you may visit the event to find out more about the whole lineup, pricing and availability.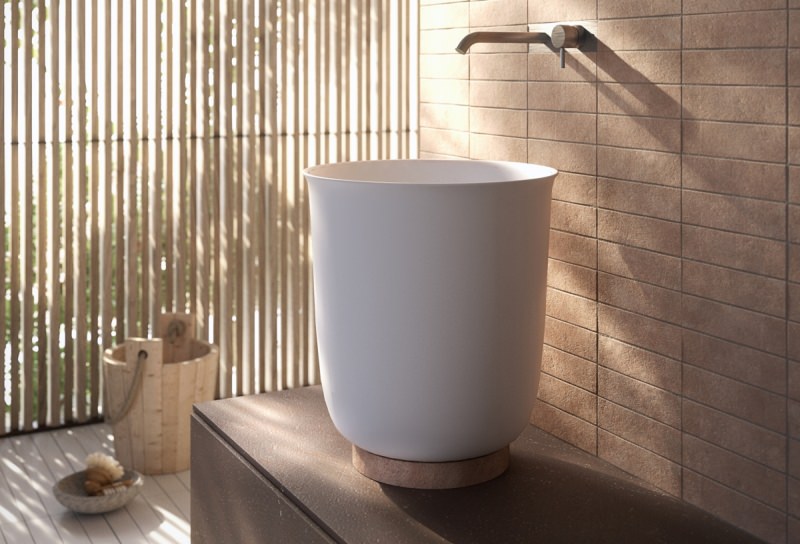 Via: SDM