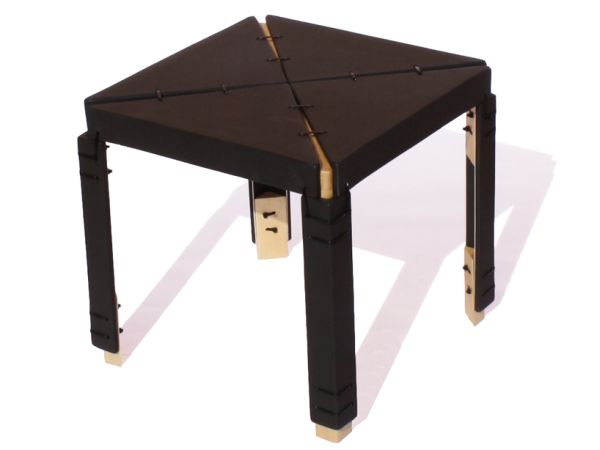 We as consumers are accustomed to the conventional notion of a glistening glass top complementing our wooden table. However, designer Rigel Duran has put a twist to this 'mundane' idea by creating the fully modular Ceramic Table. As the name suggests, the furniture item comprising of two modular units is uniquely crafted from a ceramic paste treated in high temperature. That's not all; the table's outer surface also displays a matte black ceramic glaze, thus deftly achieving the intent of the design; which according to the creator was – 'to explore beyond the limits established for commonly used ceramic materials.'
In this regard, the entire assembly of the Ceramic Table is actually pretty easy to accomplish. The ceramic components of the furniture piece are held together by connecting nylon belts, while the entire shell is based upon a solid crosspiece made of wood. This wooden facade is scantily seen through the ceramic cover, thus resulting in a contrast of dark and light color composition.
Smaller wooden components are also used along the support legs of the Ceramic Table. Placed in the support junctions, these wood pieces not only strengthens the framework of the table, but also helps in protecting the ceramic part from direct exposure through the floor. Moreover, the grip is more feasible which makes it much easier for the user to handle the table.
Finally, as opposed to ceramic's vulnerability to solid surfaces, it is pretty durable when it in contact with air. In this regard, the aforementioned vitreous enamel finish comes in handy, thus endowing the endowing the Ceramic Table with greater longevity.
Via: RigelDuran