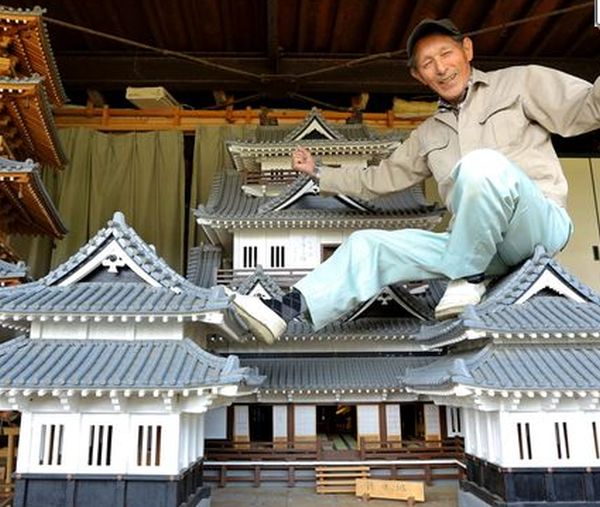 Sometimes called as Japan's version of the mysterious Machu Picchu, the Takeda Castle (located in Asago, Hyogo Prefecture) is among the very few Japanese fortifications to fall into ruins. However, retired carpenter Rikio Takeda has painstakingly resurrected the whole structure in its finest details, albeit in a miniature version. The 75-year old perfectionist had in fact crafted the entire castle from his home studio in Kato, Hyogo Prefecture. And, quite remarkably, he didn't proceed according to any plan or blueprint! In other words, it was his intuition and priceless expertise in handling wood that allowed him to just saw and chisel away his way to glory.
Since we are harping about the details of the miniature Takeda Castle, this 1.7 m high building basically has two floors stacked atop each other, along with the elaborate entrance towers positioned symmetrically. The walls of the composition are embellished with traditional 'chigaidana', or staggered shelves. These meticulously created details are not just limited to the external facades. Even as we peek into the upper story through the sliding door, we can see the floor bedecked with tiny tatami mats.
Rikio Takeda had been in the construction business for over 40 years, before he retired at the age of 70. However, his true love for historical architecture blossomed in part due to his involvement in the renovation and refurbishment of numerous temples and shrines across Japan. In this regard, the miniature Takeda Castle is not his only creation. His home-studio also boasts of other magnificent wood crafted pieces, like a 3 m tall five-storied pagoda, another three-storied pagoda, and even a 'Rokkaku-do' six-sided temple.
Via: Asahi