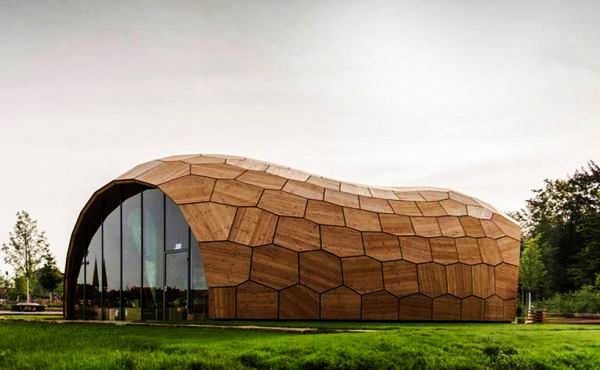 Landesgartenschau Exhibition Hall is an architectural prototype gallery space in the University of Stuttgart, Germany. It is the first ever building designed by interlocking ultra-thin timber sections, which were made entirely by robot fabrication technology. The whole dome-shaped structure is 17 meter tall and sits on an area of about 245 square meter. This structure required approximately 12 cubic meter of timber sections for construction, which now resembles a huge peanut on the ground.
The interlocked timber sections are very thin thus, forming a very lightweight unusual structure in shape of a building. This particular hall is not made from any conventional means of construction, but is literally formed by mimicking biological structures found in nature. For instance, the idea of interlocking projections came from sea urchins' skeleton and human finger joints which are connected by interlocking mechanism.
The university's team was able to complete this structure in just four weeks, and the impression of joints of these timber sections can be seen clearly in form of geometric patterns. Internally, the building is divided into two sections- an entrance area and an exhibition area with huge glass walls and doors allowing the visitors to view surrounding landscape from within the building.
This architectural piece is a perfect example of constructing a resource efficient building with low impact on environment. Architects must focus more on such novel and eco-friendly constructions to preserve natural resources.
Via: Gizmag