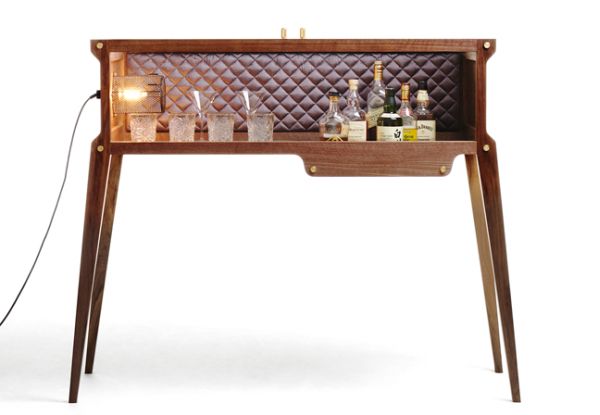 When a whiskey bar is named as The Rockstar, probabilities are that the design would come up with something snazzy. Well, in that the above pictured 'booze box' doesn't disappoint, with its affectionately retro vibe complemented by contrasting robust features. Designed by UK based studio Buster & Punch, The Rockstar is crafted from a framework of solid American Black Walnut or Blackened Ash (the call is yours), while the background panel is draped in exquisite Grey Berry silk or rockstar Black Leather. However, the piece de resistance would be surely the snugly fitted brass Edison bulb (with its very own snake's heat cage) that sort of alludes to a tinge of Steampunk essence. And, thus the 'Victorian Age' flavor is complete, albeit with sturdy all-Americana features.
Of course, beyond just serving as an aesthetic vehicle, the bulb surely has its purpose cut out for it. And that glorious purpose entails – showering your collection of assorted whiskey labels and those swanky whiskey glasses with a fuzzy warm glow that would melt the heart of many a booze aficionado.
Finally, coming to the usability scope, The Rockstar features two doors on the top that can be opened to easily access the bar. This is more convenient because of the relatively low height of the furniture. The fixtures also showcase their brass credentials with the brass butler hinges for the doors and the special custom brass buttons and knurled brass furniture handles that dot the facades.
As for pricing, each Rockstar piece will set your back by over $5,200. Bu then again, nobody claimed awesomeness comes cheap! For buying details, please refer to Buster & Punch's online store.