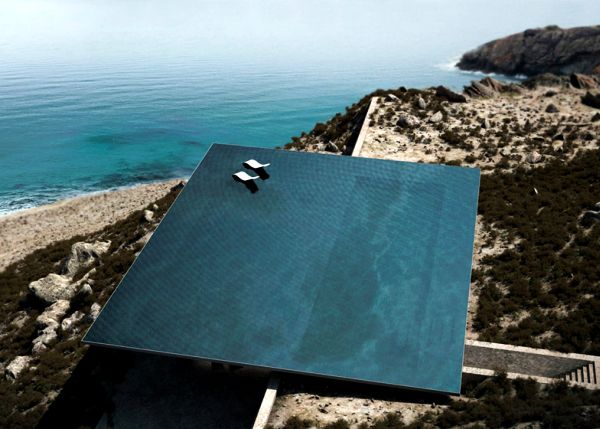 Athens-based Kois Associated Architects has built an extraordinary Mirage House facing the Aegean Sea and beautiful surrounding landscapes on Tinos Island, Greece. The unique feature of this house is its rimless rooftop pool that seems to blend into the sea from a distance, making it disappear in the landscape. One cannot figure out that a house is situated in this wonderful location until he/she actually comes near the building. The rooftop pool creates a perfect mirage like a mirror forming a camouflage with its surroundings.
The house is a single level structure on a steep surface of 210-square meters, which includes spacious rooms and necessary facilities for the residents of this great architectural gem. An open air living area is just beneath the terrace pool, offering a mesmerizing view of the surroundings to homeowners every time they step out of the house. Comfortable couches and chairs are kept in the living room to sit and relax every morning with a cup of coffee and a splendid view of blue water.
The outer walls and living area of the residence are kept similar to rocky surface around it so that they perfectly blend with the surrounding area. The architects have utilized the space very well and turned it into a peaceful residence that disappears into the environment. One can enjoy breathtaking view of the landscape while relaxing in the infinity pool with their favorite drink in hand.
Via: Dornob