Samsung Electronics has taken the curtain off its all-new portable screen and entertainment device named The Freestyle at CES 2022. It combines a projector, smart speaker, and ambient lighting into a compact device. The projector is designed to work with batteries and can be taken for entertainment outdoors.
Samsung's Freestyle projector features a versatile stand that allows rotation of up to 180-degrees. The stand makes it possible to project on floors, walls, and even ceilings. The projector comes with full auto keystone and auto-leveling features that automatically adjust the screen on any surface at any angle. It ensures a perfectly proportional image every time.
Additionally, the auto focus feature allows it to display a crystal-clear image of up to 100 inches in size, on any surface, at any angle. The projector also includes a dual passive radiator that delivers a cinema-quality sound experience with 360-degree sound radiation.
This portable projector works with external batteries that support USB-PD and 50W/20V output or above. It is compatible with traditional wall plugs as well as a standard E262 light socket without the need for additional wiring. With its ambient mode and translucent lens cap, it can be used as mood lighting. It even works as a smart speaker that can also project visual effects on any flat surface.
Also Read: New LG CineBeam Projector Offers Wireless Connectivity and Portable High-Resolution Entertainment
The Freestyle offers features of Samsung Smart TVs, with built-in streaming services, far-field voice control, and mirroring and casting functionality compatible with both Android and iOS mobile devices.
The Freestyle is designed for people wanting to enjoy video and audio content on the go. It will be showcased during CES 2022 and is now available in the US for $899. Global availability is expected later in the year.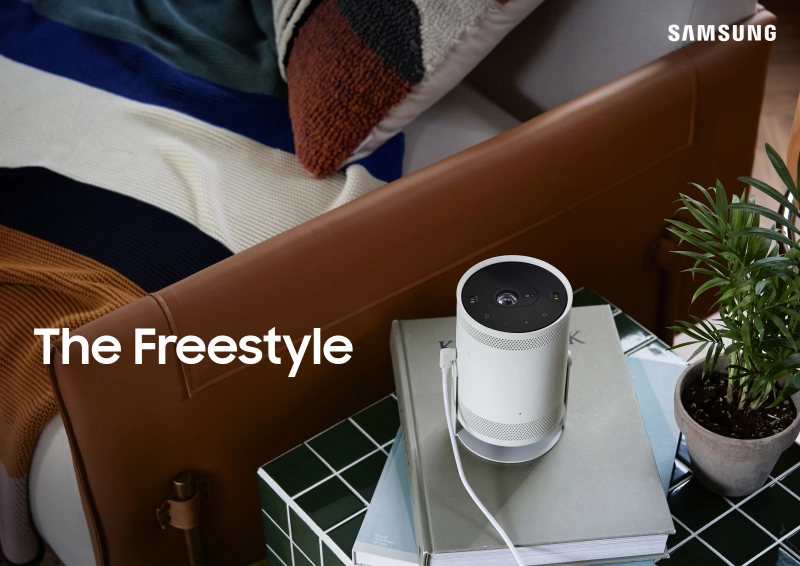 Via: Samsung