In recent years cordless vacuum cleaners have evolved as a popular home-cleaning accessory, and as a result, so many companies are making them. Recently, South Korean consumer electronics giant Samsung also jumped into the competition with the launch of its POWERstick PRO, which is being touted to give direct competition to Dyson's V8 Absolute cordless vacuum cleaner , one of the leading home cleaning products available in the market.
This handheld, stick vacuum cleaner has been exhibited by Samsung at the IFA press conference held a few days ago. Combining Samsung's suction technology with an ergonomic design comes out as an ultimate cleaning solution for homes.
Features of Samsung's POWERstick PRO cordless vacuum cleaner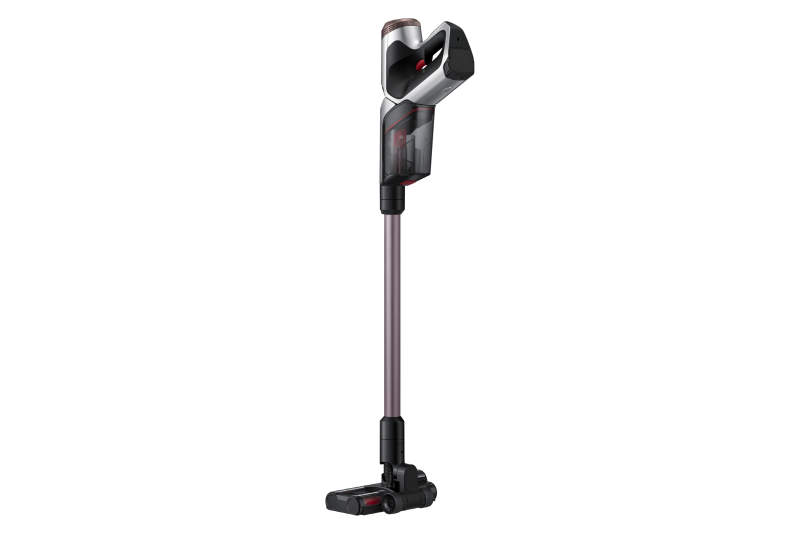 This cordless vacuum cleaner stick has a digital inverter motor with 150W of suction power which is able to catch up anything that gets in its way. With its dual brush bar head, users don't need to sweep forwards and backwards to pull up dirt. There is also a flexible handle which folds up to 50-degrees to make it easy to clean spaces under furniture, while its swiveling design makes it even more effortless to use.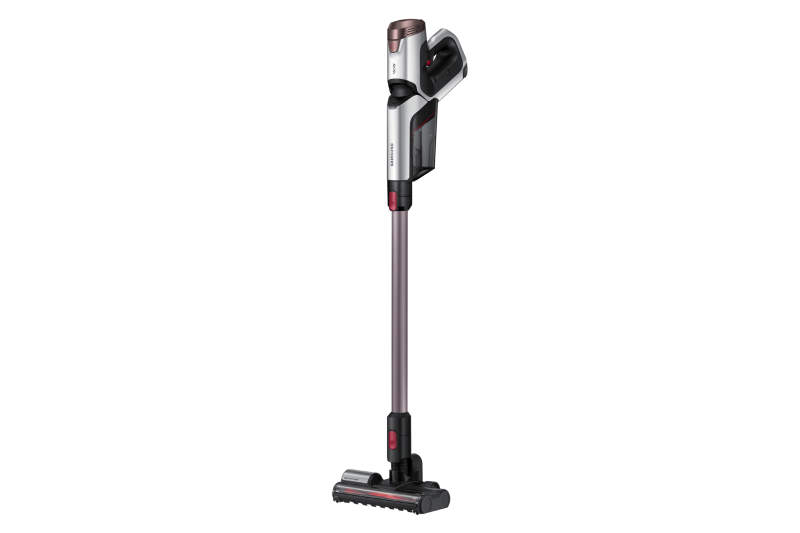 The POWERstick PRO comes with five additional cleaning tools to clean different areas, and also any type of dirt with ease. It's deep clean brush thoroughly cleans carpets, the mini-motorized tool can be used to clean furniture and there are also some other accessories to reach every corner of the house. It also has a removable long-lasting 32.4V lithium-ion battery that provides up to 40 minutes of battery life, enough to clean an apartment or a small house.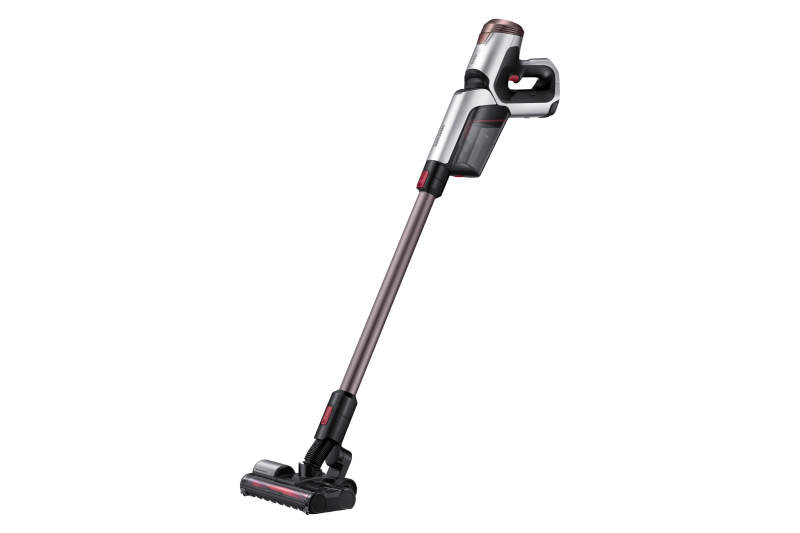 The POWERstick PRO also boasts HEPA filtration, so you never have to worry about littering of the collected dust. Lastly, it's detachable EZClean Dustbin and Brush allows hassle-free maintenance. Samsung hasn't mentioned its release date and price, but if it is priced decently, it's surely going to raise the bar for Dyson's cordless vacuum series.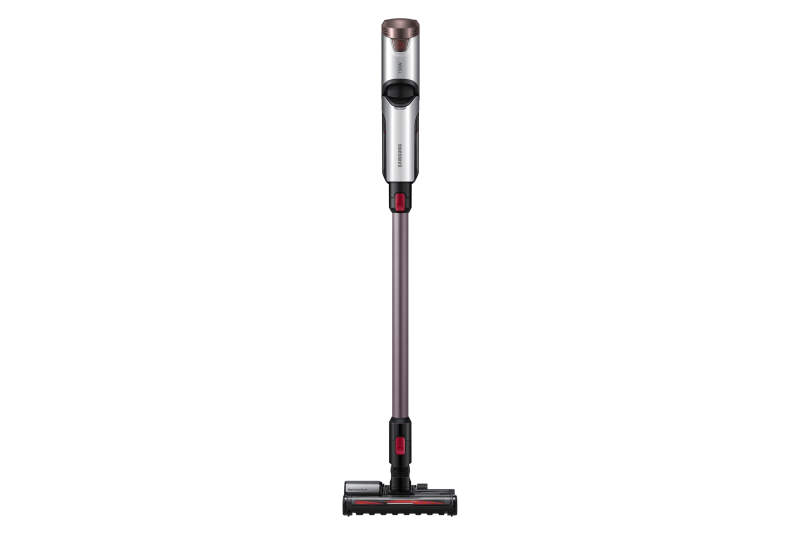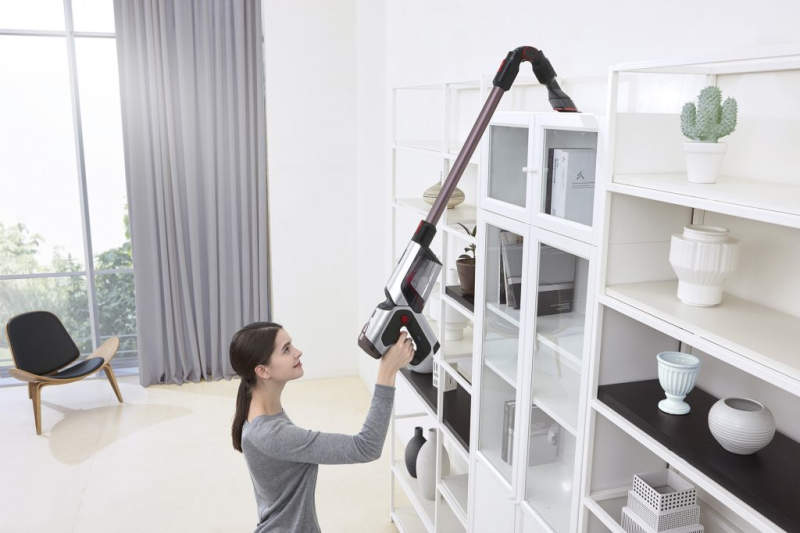 In the cordless vacuum cleaner series, V8 is the latest offering from the house of Dyson that sports a canister of nearly same size and a built-in Li-ion battery with 40 minutes backup. Other notable features you (and for that matter Samsung) can't afford to overlook are:
Features of Dyson V8 cordless vacuum cleaner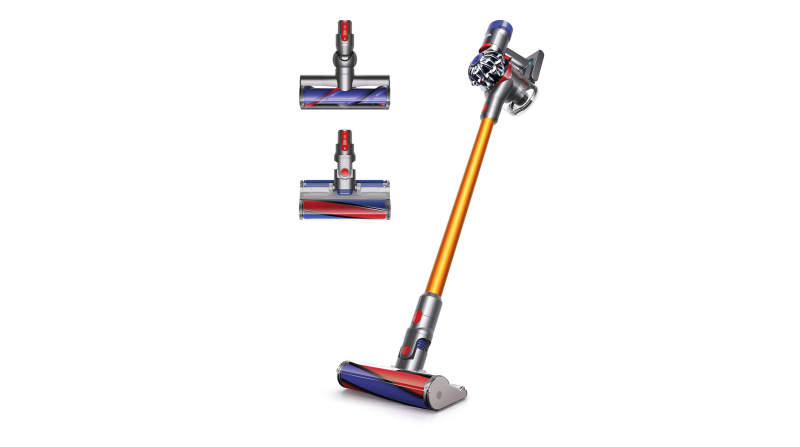 It comes with a direct-drive cleaner head that drives bristles deep into the carpet to remove ground-in dirt and a soft roller cleaner head to clean hard floors
This cordless vacuum stick also features HEPA filtration that captures 99.97% of particles as small as 0.3 microns
It weighs just 5.75 lbs and has 0.14 gallons bin capacity
The Dyson V8 Absolute cordless vacuum cleaner is powered by a Lithium-ion battery to deliver up to 40 minutes of fade-free suction but with the motorized floor tool, it can run for up to 25 minutes
The digital motor in Dyson V8 with 115AW suction power creates the most powerful cordless vacuum offered by the company
It also features Max power mode to offer up to 7 minutes of higher suction power for more difficult tasks
It comes with six additional attachments to perform different types of cleaning tasks
The most interesting feature is the convenient docking station that allows you to place it easily at any corner of your home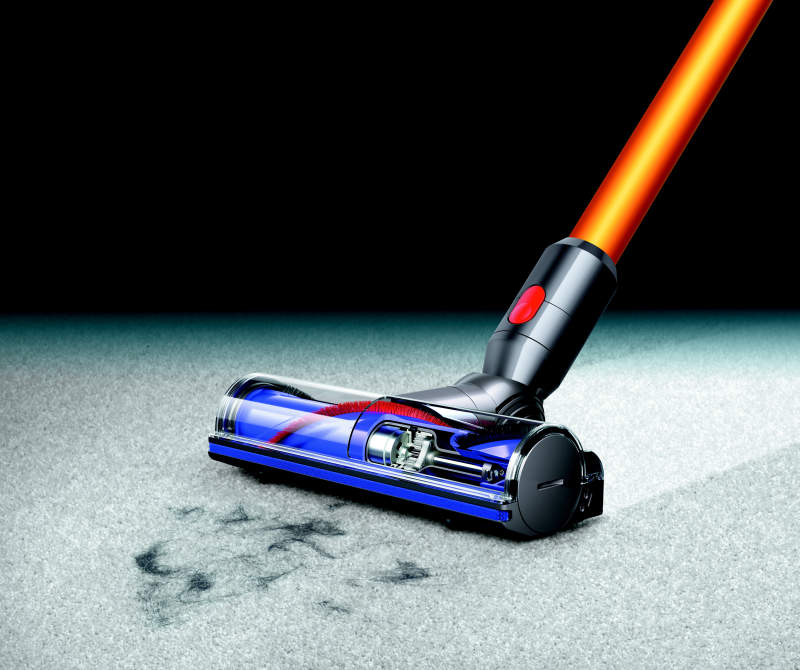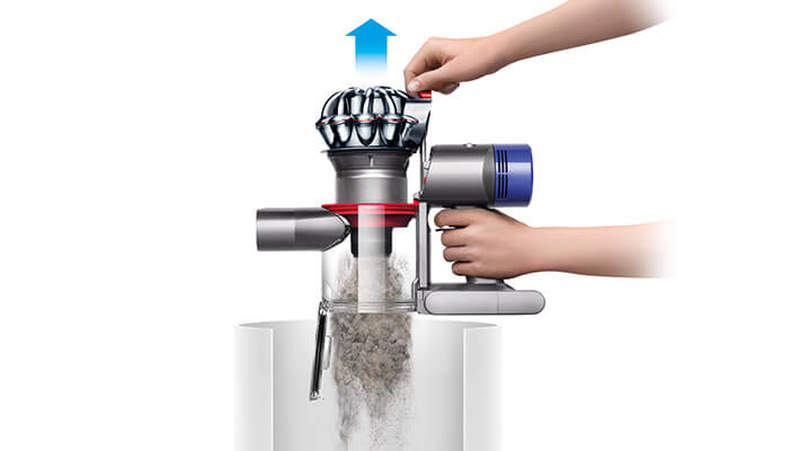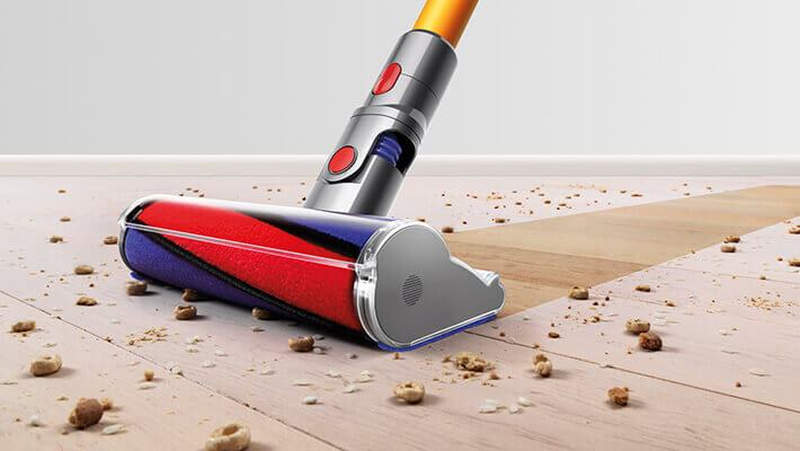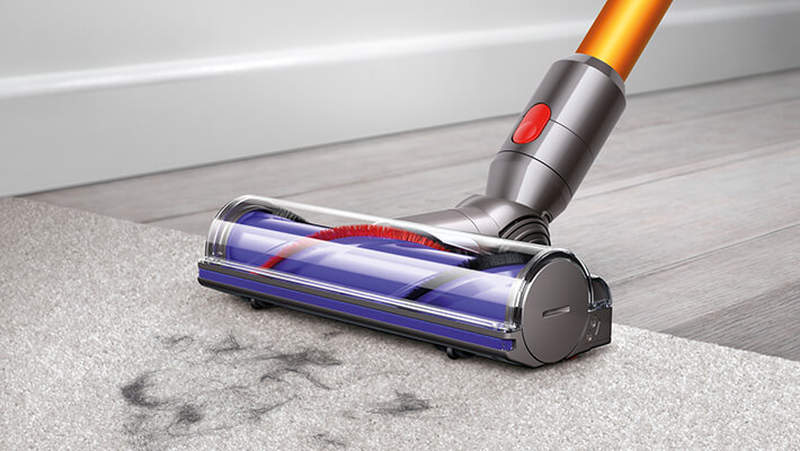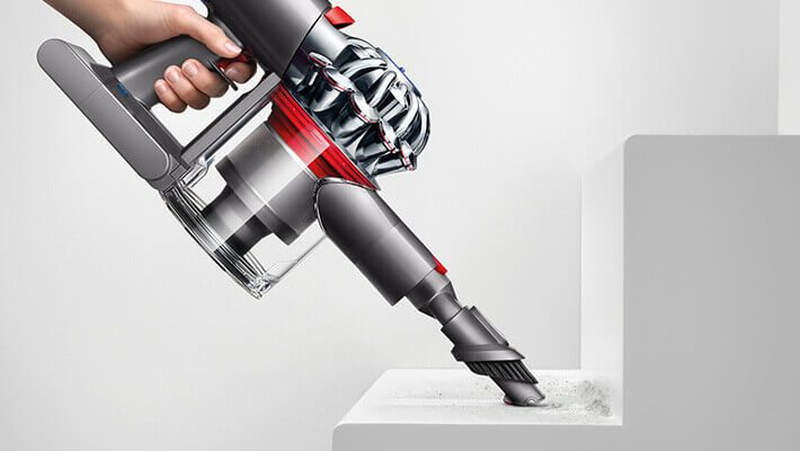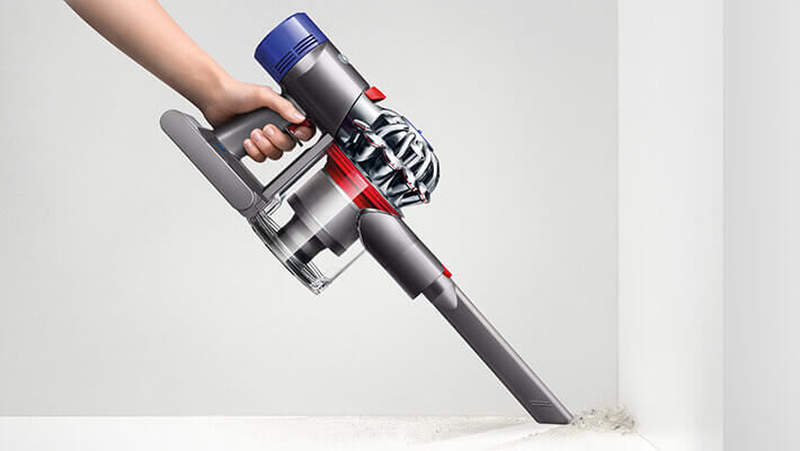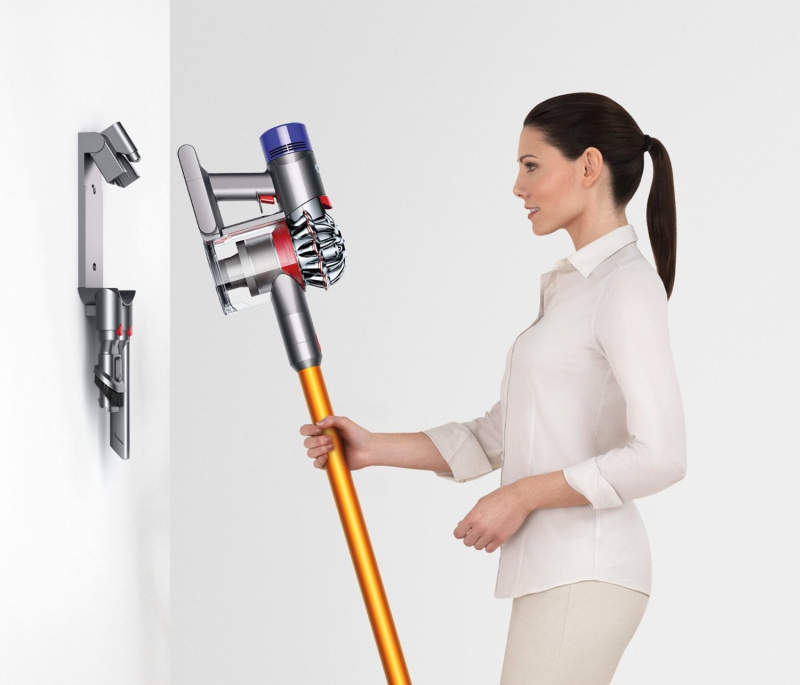 Is Samsung's cordless vacuum better than Dyson V8?
Both the have similar looks and functionality except for some differences in power and flexibility. The design of Samsung vacuum and its attachments are pretty similar to that of V8. Pricing, which Samsung hasn't revealed yet, is the only deciding factor that will determine the ultimate victory. However, in a highly competitive landscape where consumers have already got so many choices, if Samsung prices its cordless vac a little lower than the V8, it can give Dyson a run for its money.