Samsung-owned smart home company SmartThings has launched its new next-gen smart home hub, which comes equipped with smart sensors and latest video monitoring capability. Samsung SmartThings Hub has been redesigned in shape of a router to solve some of the reliability issues that its predecessors experienced.
Due to its compact and handy shape, the smart hub can be operated from anywhere in a room without any need of internet connection. This new hub can is designed to connect with Samsung's home monitoring camera and get live video feed from the SmartThings mobile app. All thanks to its smartphone app, the connected home device allows continuous live-stream of video, which is only recorded at the time of some activity.
For security purposes, the video isn't sent through SmartThings' servers and only homeowners are allowed to view it through smart home monitoring service by the company. With this service, the users will be able to watch over and protect their home from anywhere in the world. The new hub runs on a battery backup that lasts up to 10 hours in the event of a power outage.
Besides all that, the hub and its connected sensors can also be used to control lights, thermostats and doors to offer utmost comfort and protection to your smart home. It even works with ZigBee and Z-Wave radios; moreover it's compatible with more than 200 smart devices. Hence, offers complete flexibility to the users to monitor as well as protect their home smartly and efficiently. The Samsung SmartThings Hub is available now in the U.S. and on September 10 it'll be launched in U.K. as well. It costs only $99 with sensors ranging from $30 to $55.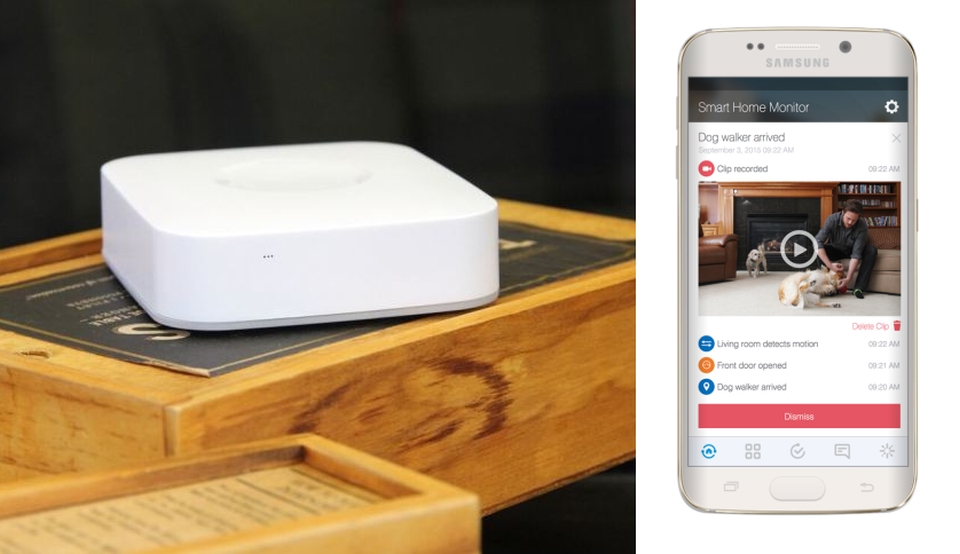 Via: TheVerge