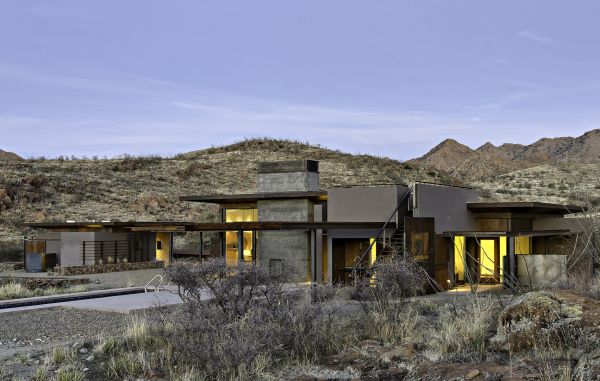 Merging well with the environment and natural setting around, the San Cayetano Mountain Residence designed by DesignBuild Collaborative in Santa Cruz County, Arizona USA, is built on 2,300 sq. ft. area. The amazingly build home, which camouflages with the rocky terrain, comprises of three buildings, the central being the Main house, comprising the living space. The other two parts, the Detached Studio and Carport structure, along with the main house make up the entire San Cayetano Mountain Residence.
Each individual building, with a unique connection to the landscape, has been constructed from a mix of structural and light gauge steel, fiber cement boards, plaster, oxidized steel screens and insulated glass panels. The shading in the home is provided by cantilevered roof panel, and it also features horizontally folding shade screens which can be folded out to secure the house in absence of its residents. Since, the San Cayetano is built primarily to merge with the landscape, all its interiors – the living rooms, dining room and kitchen have exterior counterparts.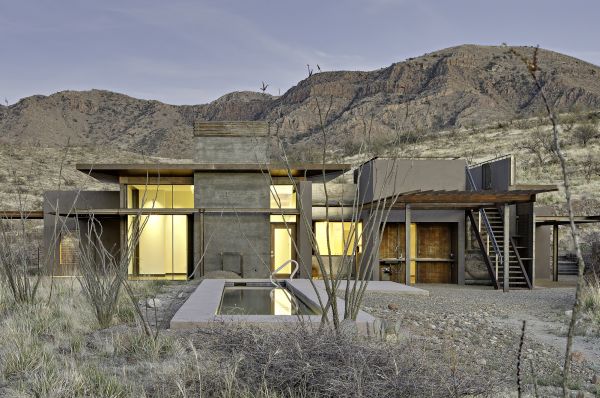 The San Cayetano Mountain Residence offers customized view from each room and has a very influential garden seating. The house has a fireplace rendered in crushed lava paying homage to geologic origins of the surrounding area. Each bedroom in the house features a separate sitting area on the outside and the master bathroom has an exterior shower, which makes the house utterly interesting.