Whether you are someone who likes your home to be bright and happy or someone who wants to keep it mysterious and dark, there is no denying the fact that lightning is the main factor required to change the look and feel of the home. And therefore a proper lighting fixture is an utmost required thing in a home. In addition to illuminating, lighting fixtures also help to decorate the home.therefore, a lot of designers bring forward unique designs of lighting fixtures made with interesting materials. Just like the Sand Light, which is created by making use of sand grains combined with traditional ceramic techniques.
Barcelona based style studio Alien and Monkey has created this simple looking Sand Light lamp. What makes it special is the natural material used for crafting it, which also makes it an environment friendly product. To create this elegant lamp, the designers have made use of a natural element i.e sand grains that can be found in abundance on earth. Along with using a natural material for their creation, they have also employed the traditional ceramic techniques to smoothly carve the sand in cubic shapes. The grainy texture of the pretty cube can add a chic touch to the décor of a home. Ephemeral in nature, the lamp shade will crumble back to its original form, once its lifecycle ends.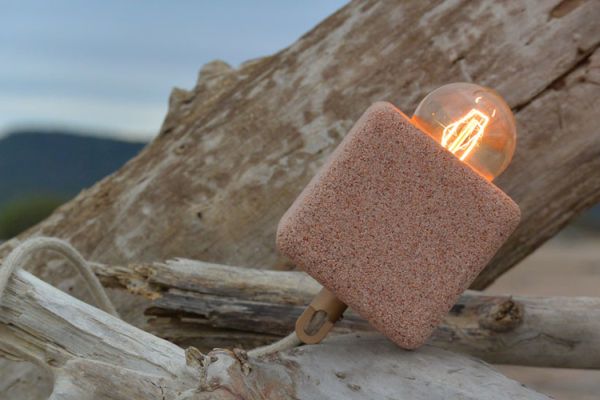 Although the Sand Light has a short life span, but this fixture makes the most of its time by winning appreciation of people for its green character. The beautiful lamp shade is available in black and brown shade and looks amazing when the little cubes illuminate a room in groups.
Via: Thenestway