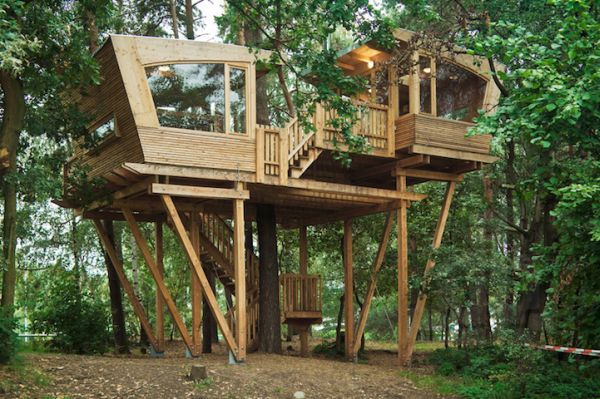 Germany-based architectural firm Baumraum has created a spectacular treehouse for a scout group in middle of the woods near Wolfsburg, Germany. Its amazing design has been created by the architects and constructed by a troop of young people on the Almke campsite. This small dwelling wraps around a pine tree and can serve as a place where scouts can gather, sleep and eat together.
The treehouse comprises of two wooden buildings facing one another that are offset by a height of one meter. Both buildings are supported firmly by diagonal wooden bracings, beams and steel cables. In middle of these two structures, a wooden staircase is formed that divides both section of the house and allows entrance into either structure.
One building is slightly lower than the other and includes eight bunk beds so that the scouts can sleep in it comfortably. However, the upper building has a living area, a dining area and a kitchen equipped with necessary cooking equipment. A wooden burning stove is also placed in the living area for a cozy environment inside during winters.
Besides all these facilities, large glass windows are made on every wall of this living space to offer a magnificent view of the surrounding green environment. Almke Treehouse will not only provide a comfy shelter in woods for scout troops but also a refreshing place to relax, feeling close to nature all the time.
Via: MyModernMet