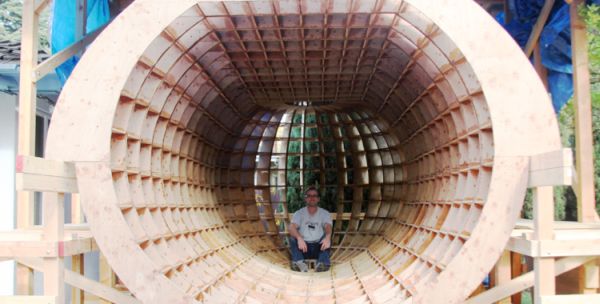 Since the ill-fated tsunami hit Japan in March 2011, Tsunami-proof housing has caught pace in the east. Now, things seem to be gaining momentum westwards too. Chris Robinson, resident of Palo Alto, California is currently working on an off-grid boat-like shelter dubbed Tsunamiball, which will hopefully be tough enough to withstand nature's worst, if a tsunami was to hit his home city. Robinson has chosen the design to be like a very tough boat so that his shelter is capable of floating in case of emergency. Robinson had no prior experience of developing boats, so all the construction has been a process of hit and trial.
Measuring 6 x 3 x 2.5 m (22 x 10 x 8.5 feet), the Tsunamiball is made completely from plywood. Standard screws were used initially to put the plywood together, but the screws were later replaced with plastic staples made specifically for boat building. For Robinson, the challenge with the structure has been to make it tough enough to withstand debris. For this, he has created the outer hull of the boat shelter from marine grade plywood measuring 2.5-inches thick. Marine grade plywood is covered with abrasion-resistant polyester, which makes the wood as tough as Kevlar.
Tsunamiball, which has a captain's window and several portholes is still work-in-progress. Robinson is planning on including flexible solar panels, electric motors and composite toilet to his structure. This would make the boat shelter self-sustainable. Robinson also plans to add a total of 60 layers of wood to the structure for ultimate durability along with adding a kitchen, electric stove and benches that double as beds. Work on Tsunamiball is expected to complete later this year. Once complete, Tsunamiball will be tested and then installed on Robinson's garage to function as a guest room until it is need in case of a tsunami.
Source: Tsunamiball Via: Gizmag