It's no secret that with increasing global warming, glaciers are melting faster than ever before. Due to this sea levels are constantly rising and soon a time may come when we have to make the ocean our permanent home. Probably keeping that in mind, Hong Kong-based firm Liquid Interiors has collaborated with interior designer Sam Hui, assistant interior designer Dominic Cheung, LEED APs and many other talents to create a conceptual self-sustaining survival pod that can float on water.
Costing HK$10 million, the three-story floating unit is designed to combine indoor and outdoor areas both below and above sea level. The floating pod contains all sustainable features to generate self-sufficient resources for survival. There is a food garden on the upper outdoor space for growing fresh vegetables and side dishes are installed to catch seafood on board. Plus, a natural water desalination system on the upper deck is used to produce clean drinking water from the sea.
The solar detection panels on the glass facade are used to generate electricity to power the floating house. This unit also contains an extension unit where rubbish such as plastic can be collected for recycling to produce building materials. The lower level is a multifunctional space with airy dining area and in-wall kitchen. It can also be transformed into a comfortable family room and a living room for daily activities.
In addition, the floating pod includes a green playground, a balcony and an extra outdoor extension. Even four or more self-sustaining units can be connected to form a community on water. So, it would be a practical abode for ocean living.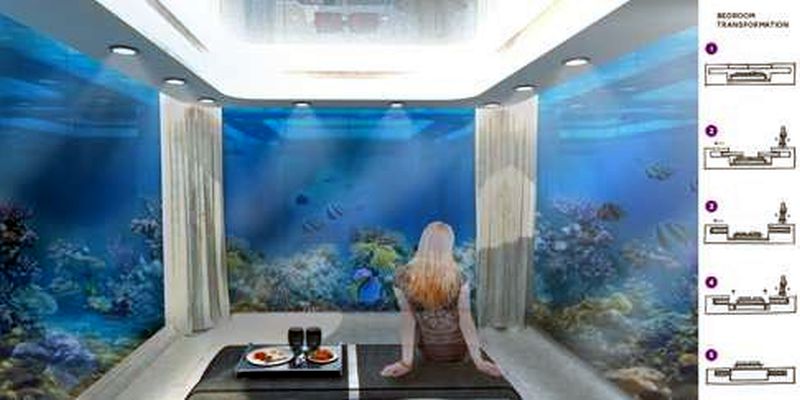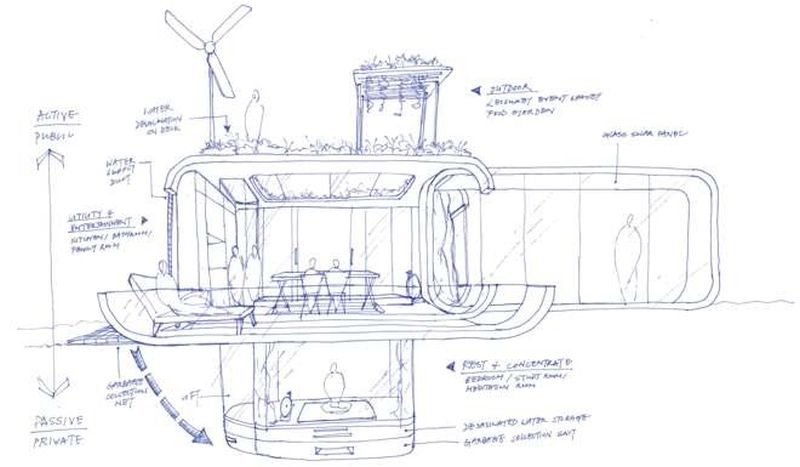 Via: SCMP