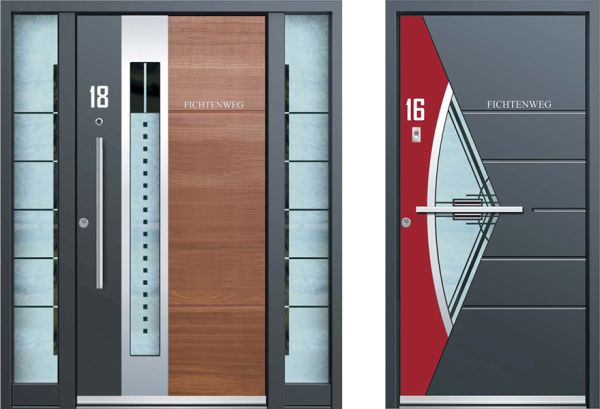 Front doors are the main focal point of any home or building's exteriors, so why not set an individual accent with Inotherm's Front Doors. These doors will make your house a home with some of the highest level of security and insulation combined with individual styling. Designed and built in Slovenia, these high end doors are configured to offer better thermal insulation, sound blocking and protection against intruders than most of the doors currently in market.
Though pretty beastly in terms of build quality, they are easy on eyes. Sturdy yet light weighted, 85mm thick, these doors are constructed from a 3 mm thick sheet of folded aluminium with a polyurethane core sealed inside. This is how they extend a winning combination of both thermal and sound insulation. Furthermore, the escutcheons are made of stainless steel and designed to protect the door from drilling and turning , so even intruders armed with sophisticated tools won't be able to breach the walls. In addition to all this, they also provide a variety of design options.
If you have a penchant for technology, then Inotherm have fitted doors with network-enabled locks that can be controlled with your smartphone, or biometric fingerprint scanner if you are in a habit of losing your keys every now and then. However, as for now, we don't have a word on when they'll be available or how much they'll retail for.
Spotted by Core 77 at the Holz-Handwerk trade show in Germany, these doors are more futuristic and aesthetically better suited for modern residences, giving them an ultra-modern look. So if you choose one of them to adorn the doorway to your dwelling, it will definitely put you in a league of your own.