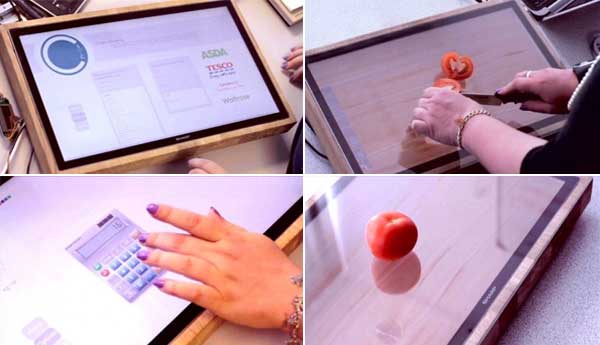 Following the "#GetItDownOnPaper" design competition conducted by Sharp Europe, Japanese electronics manufacturer was struck with a brilliant idea of developing a chopping board integrated with an internet connected touchscreen tablet. The nifty idea in the competition came from Siobhan Andrews, student of Sustainable Product Design at Falmouth University, England. Andrews's idea of interactive cutting board won him the competition and was picked by Sharp to create a production model. The fully-functional chopping board by Sharp dubbed the Chop-Syc is Wi-Fi enabled tablet PC that you can chop on without fear.
Featuring a specially made toughened scratch-resistant glass and Sharp's amazing digital touch sensitive screen, the Chop-Syc is probably the first gadget that can let you do interactive things like surfing the net while you chop up the food on it. Chop-Syc tablet chopping board has its own browser, weighing scale, recipe book, calculator and a store where you can order vegetable and other food stuff.
While everything seems good about the Chop-Syc, which from prototype demonstrations looks like a prospective kitchen item of the future, there is a question that Sharp must answer. Is the tablet chopping board washable? There is no date when Sharp would market the Chop-Syc or how much it would retail it for.
Via: JapanDailyPress