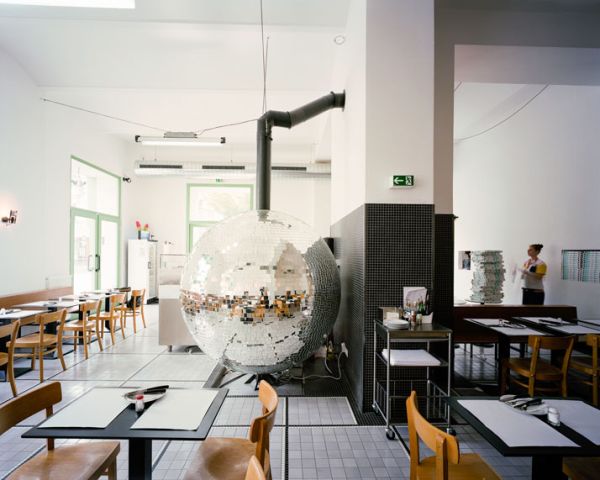 Austrian architect Lukas Galehr, member of a young architects and designers collaborative MadameMohr, is the person behind the design of pizza oven at the recently-opened 'Disco Volante' pizzeria in Vienna. The pizza oven is no ordinary oven, it's a giant rotating and shiny disco ball which has been the talking point and the centerpiece of the second Italian outlet since it has opened. Disco Volante basically translates as "flying disc", and the client wanted the restaurant not only to portray the feel of a southern Italian pizzeria but also carry the spirit of the "Italo-Disco" era of the 1970s and 80s. The giant glittering disco ball shaped oven also provides a space-age look and feel to the interiors.
The fully rotational and fully operational spherical wood fired oven is made from heat resistant concrete, CNC milling technology and is covered with about 7,500 specially cut mirror tiles.  Located in the middle of dining area fastened to a central chimney that allows it axle from its center, the oven revolves slowly with approximately 1 revolution per minute so that the base is cooked evenly.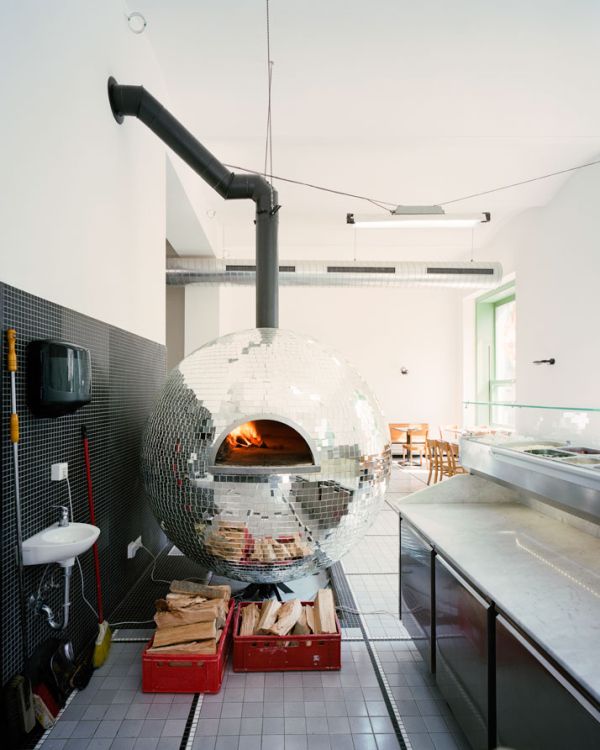 During daytime, the shining oven reflects natural daylight to the dark corners of the room and in the evening the lights are dimmed and various spotlights are aimed at the ball which sprinkle shades of blue and pink onto the wall and ceiling.
Via: ThisIsColossal/Yatzer/PP