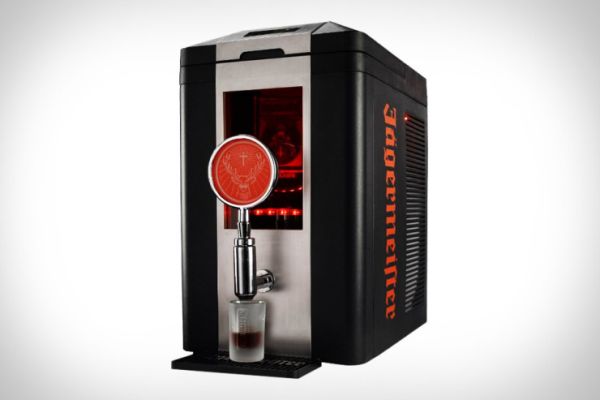 It is told that the exalted spicy concoction of Jagermeister is best served when cold or kept on ice. The aptly christened Shotmeister from the Jagermeister's brand fulfills this herb and alcohol fueled fantasy by bringing chilled shots of the German drink to your very home. Touted as a 'single bottle home delivery system for dispensing ice cold shots', the contraption works in a similar manner to the other members of the Jagermeister Tap Machine family. Of course, this cool function (no pun intended!) is complemented by a sleek design language of the cabinet, comprising of glistening glass windowed cooling chambers and illuminated orange LED lights.
In terms of usability, the Shotmeister is pretty easy to handle and clean, with no kind of modular assembly required from the user. You just need to turn the tap for a cold serving of Jagermeister, which can read at temperatures below zero degrees Fahrenheit. And, as for the cabinet's capacity, it can hold a single 1 L or 750 ml bottle of the spiced drink.
Finally, coming to the 'social' side of affairs, a drink or two at the bar doesn't hurt anyone. But with the outrageous gimmicks that are sometimes associated with Jagermeister binges, it is always a safe and satisfying bet to consume the famed digestif within the comfortable confines of one's house.
Price – $199
For more details on buying and the related accessories, please check out Jagermeister's TapMachine link.