Confused over what to do with IKEA catalog stashed in your closet? Here is a good news for you. IKEA needs you to reduce environmental impact and take a step forward for better and healthy environment.
On September 12, IKEA is inviting residents of Belgium to recycle their old IKEA catalogs into stuffing for geometrically shaped cushions, dubbed as Kuss cushions.  Fashioned by Charles Kaisin, a renowned Belgium designer IKEA shredded Kuss cushion is part of creative campaign led by DDB Brussels, to celebrate the arrival of IKEA's 2016 catalog.
On September 12, six IKEA's Belgium store will start accepting the old copies of catalog published in 2014. The 300-page book will be shredded and will be stuffed into all-new cushion. IKEA catalog is one of the most widely distributed publications, but this widely distributed publication is also influencing the environment and this campaign will help the giant furniture house to contribute towards environment and reduce their carbon footprints.
Charles Kaisin's designed cushion is a molecule-shaped red and white cushion cover, which has Kaisin's signature printed on the cover. The creative campaign will also help residents to reinforce and bring back natural and sustainable choices into their home.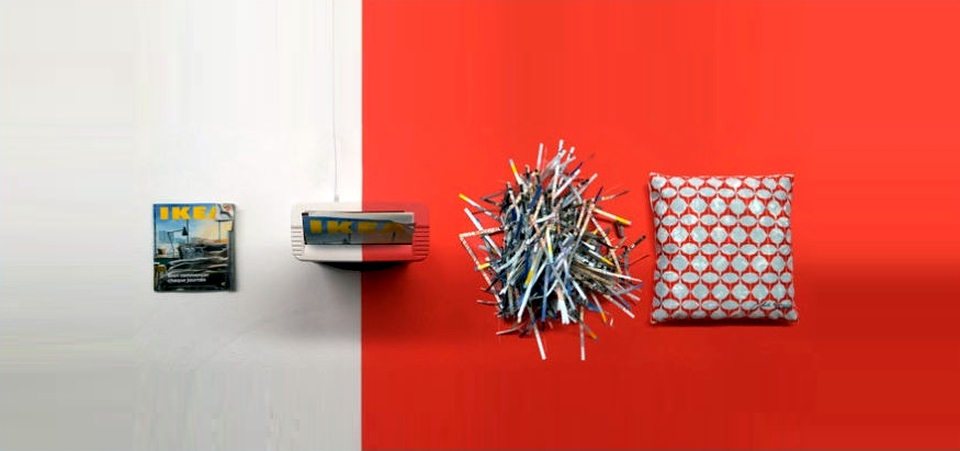 Via: MNN