We have seen a lot of people who have made use of their old classic automobiles to create artistic pieces of furniture like beds, cabinets, sofas, couches, and even coffee tables. It's not just about fabricating marvelous furniture pieces but also repurposing old classic cars into something more useful instead of throwing them into landfills.
Apparently, many designers and DIY'ers are so much into cars that they have recycled their old cars to create splendid pool tables for those who are bored of playing this lazy game on the regular pool table. Such car inspired pool tables will undoubtedly be appreciated by auto aficionados like you.
Ford Falcon Pool Table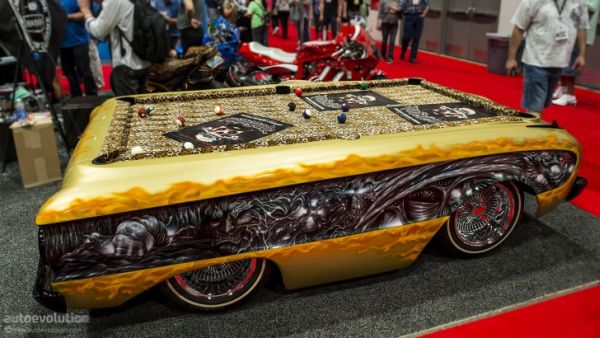 One unique entrant at SEMA 2012 was the Ford Falcon Pool Table. This one of a kind pool table has been designed on a 1960 Ford Falcon model. To create a pool table from this vintage car, an anonymous designer chopped off the roof and put it straight on the doors. This design was appreciated by everyone, especially by auto lovers.
1959 Corvette Pool Table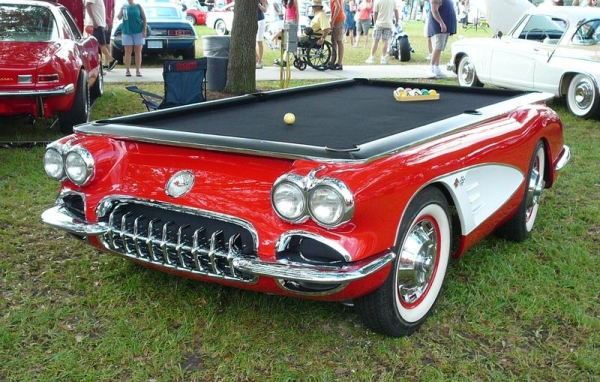 The 1959 Corvette Pool Table is built in the US with (of course) a real 1959 Corvette. To mold the old vehicle into a brand new pool table Car Pool Tables, the manufacturer of the table, has cut-off the roof. He has let the headlights of the car in a working condition that can be managed by a remote. This splendid pool table flaunts its chrome bumpers, full-size steel rims, white wall tires, chrome wheel covers, and professional size three piece slate. Weighing 1200 pounds, this outstanding car pool table is an eye catching DIY project.
Autosports Pool Table by Hurricane Custom Billiards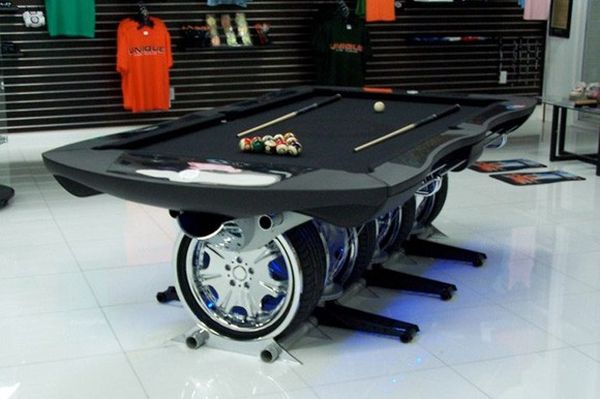 Hurricane Custom Billiards of St. Petersburg, Florida, has created the Unique Autosports pool table that we here. The tires, the rims, and chrome rails along with the cushion clearly depicts that this one of a kind pool table is built drawing inspiration from a sports car. The top surface of the table is covered in black felt and trimmed with black leather. Limited edition luxury pool table comes with built-in iPod dock and costs a whopping $40,000.
Carroll Shelby Signature Edition GT 350 Shelby Pool Table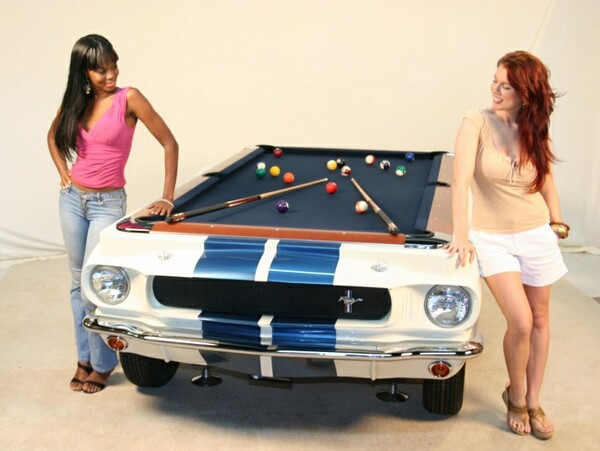 Another cool limited edition creation by Car Pool Tables is Shelby Pool Table which is built directly from the body of a real 1965 GT 350. The table features real working lights, actual chrome bumpers, and decals, and real alloy rims & tires. It is adorned with top quality auto paint and clear coat. Each piece is manufactured in the USA and is installed by a professional pool table installer. The thing that makes these tables unique is that each of the 50 manufactured tables is signed by Carroll Shelby himself.
Volkswagen Bus Pool Table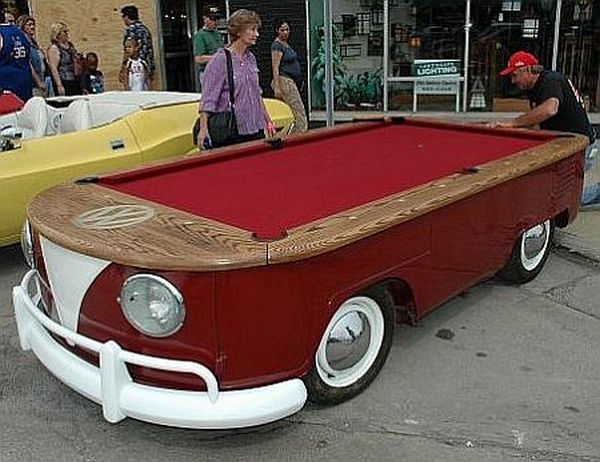 Made from a VW Camper Van, the Volkswagen Bus Pool Table is one of the coolest pool tables of them all. This one has an original Ohio number plate and is extremely functional. It includes a storage space for keeping snooker balls and various other supplies, located right below the engine flap. The surface of the table is covered in maroon felt giving it an awesome appearance. The only thing known about this gorgeous billiard table is that it was built in Ohio and the current owner owned it for a price of $8,000.
1965 Ford Mustang Pool Table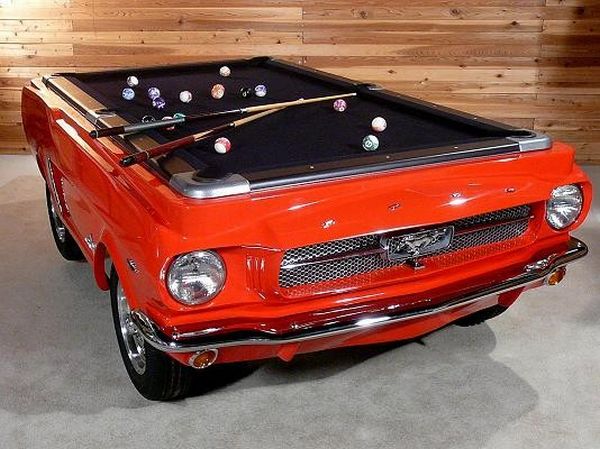 The 1965 Ford Mustang Pool Table is licensed from the Ford Motor Company. It is constructed on a solid pool table frame with a slate top of standard size. The body of the table is made from a real 1965 Classic Mustang, and the car's length is reduced to fit the pool table, whereas the front and the back retains the original size. It is complete with real working lights, chrome decals, bumpers, hardware, and real alloy rims & tires to stick to its classic touch.
Not to miss
Pool Table Car by Kanyaboyina Sudhakar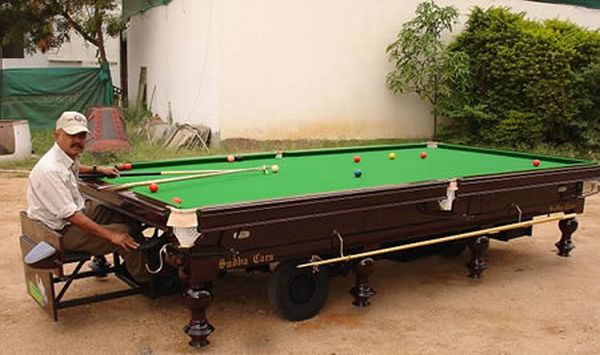 This amazing pool table/motor car is designed by Kanyaboyina Sudhakar from India. The pool table-cum-car measures exactly the size of a standard snooker table, and therefore, we can say that the designer has carefully built this piece for the finest gameplay. Although, the main purpose of this Pool Table Car is to serve as a snooker table, but as it incorporates a functional 150cc engine, headlights, indicators, and steering, so you can roll it across the street at a top speed of 50 km per hour.