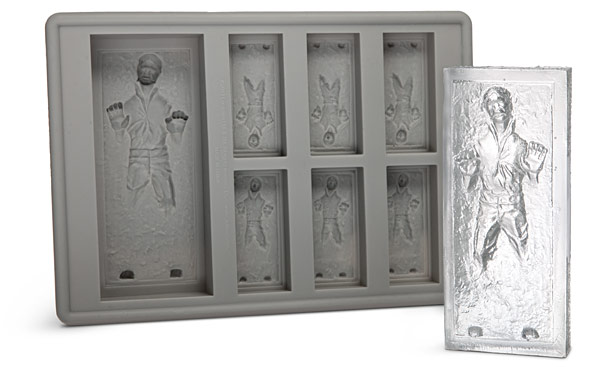 Star Wars is one of the most favorite movies of all for sci-fi geeks. This popular movie was a blockbuster in theaters around ten years ago but the Star Wars craze is still around. You can see the Star Wars merchandises on shelves which don't take long to be sold out. Be it toys, clothing or even household items like ice trays that add a bit of Star Wars flavor to your bourbon is a cool way to spice up your next on-the-rocks party. A few of them discussed here make up for a crystal clear ice cube in the shape of a Star Wars character from R2D2 to Darth Vader to Millenium Falcon, ideal for any of your chilling needs. Here is a list of six cool ice cube trays to help you choose the perfect one.
1)  R2D2 Ice Cube Tray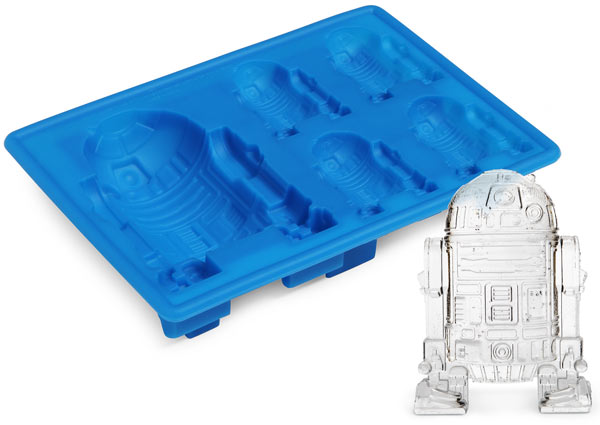 If your favorite robotic character from this epic space opera film is R2D2, then you'll definitely love this silicone rubber Ice Tray inspired by R2D2 droid. Just as Princess Leia trusted him to help her, you too can rely on this trustworthy droid to keep your favorite beverage ice cold. The ice tray measures 6x4x1 inches and makes one large sized R2-D2 ice cube and four tiny ones. Besides molding ice cube in the droid's shape, you can also shape up your jellies or chocolates.
2) Darth Vader Silicone Ice Tray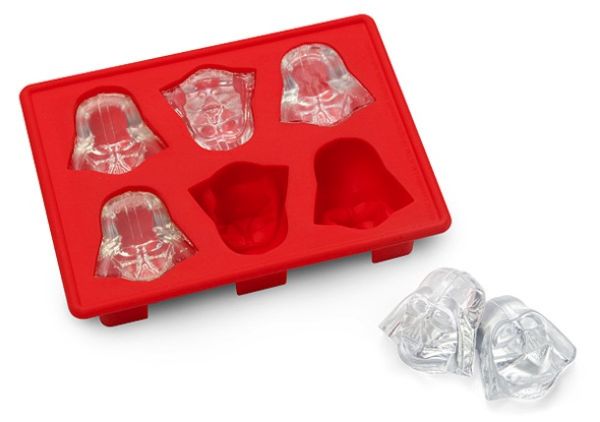 This ice tray pictured above molds ice in the shape of Darth Vader iconic helmets. Measuring 6.25″ x 4.25″ x 1.″  It is made out of food safe silicone and makes six generous ice cubes. And not only ice cubes, you can also give mini jellies and chocolates the shape of Vader's helmets. Being oven or microwave safe, you can also bake cakes and brownies and can wash it in a dishwasher.
3) Han Solo in Carbonite Ice Cube Tray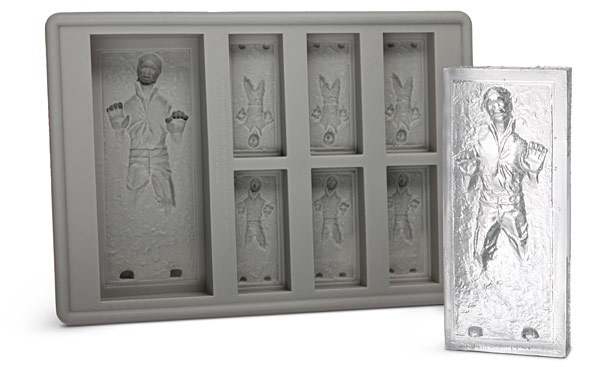 The rebellion Han Solo was frozen in Carbonite in the second part of Star Wars. Therefore the Han Solo ice tray is the most appropriate of all others. This silicone ice tray can make out  7 frozen Han Solo cubes out of which six are smaller ones measuring 1.75″ and one large measuring 3.5″. The food-safe silicone can resist cold down to -40 degree Fahrenheit.
4) Stormtrooper Silicone Ice Tray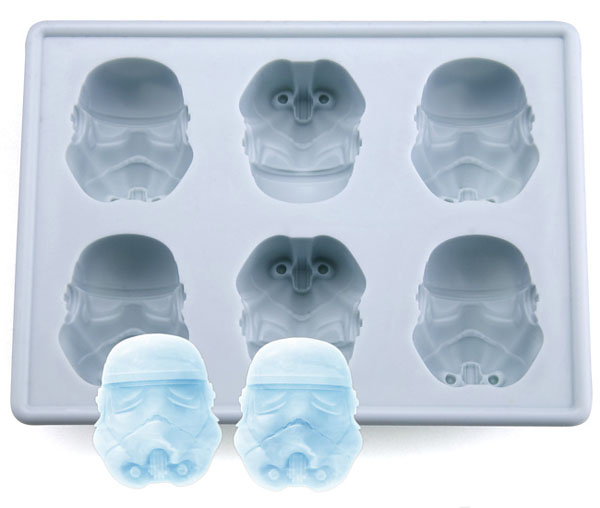 The Stormtroopers are the fictional soldiers from the Star Wars universe. They serve as the army of the Galactic Empire. They appear to be pretty scary but with the Stormtrooper ice tray you can sink them into your beverage or can eat them up by making a Stormtrooper chocolate treat. This tough flexible silicone tray can mold 6 ice cubes or jellies or candies of Stormtrooper helmets.
5) Star Wars X-Wing Ice Cube Tray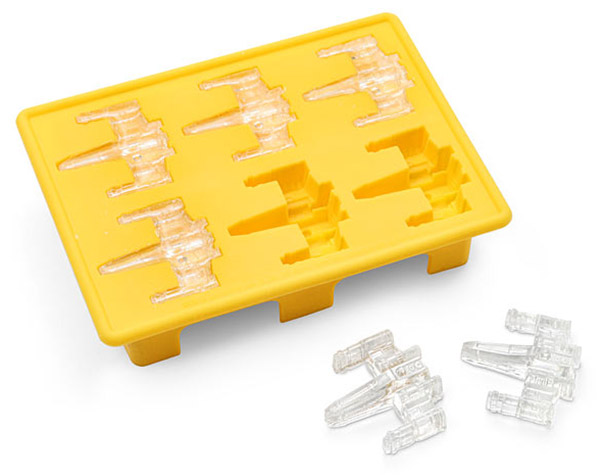 The X-Wings are the fictional war ships or cruisers depicted as the primary interceptor of the Rebelion Alliance. With the silicone X-Wings ice tray, you can plunge this dog-fighter X-Wings into the glass of cola and chill out the summer heat. The tray has room for making six X-Wings of ice, jello, chocolate or candies. You can also mold cookies and cakes in the X-Wing shape as the tray can be safely used in a microwave or oven as well.
6) Millennium Falcon Silicone Tray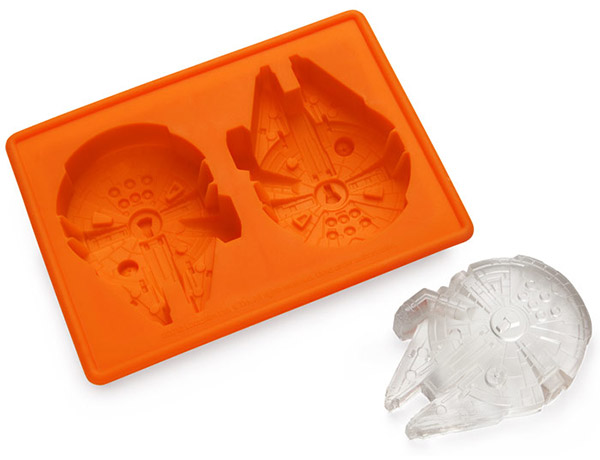 Millenium Falcon ice tray frames ice cubes in shape of the famous Han Solo's ship. This tray is perfect to be used in microwaves, ovens, fridge or freezer and therefore you can make cakes, cookies, candies, chocolates, jellies, ice cubes, and just about any other such thing. This food safe silicone tray can be easily cleaned in a dishwasher. The tray measures 6.25″ x 4.25″ x 1″ and can bear the heat up to 446°F  and tolerate a cold temperature of up to -40°F.