Not designed for the weak-hearted, OUE Skyspace LA is boasting a thrill filled unique experience that will offer locals 360-degree view of Los Angeles. Providing a blend of adrenaline rush and spectacular view, the recently opened OUE Skyspace LA is California's tallest open-air observation deck and skyslide.
Situated about 1,000 feet above Los Angeles on the 69th and 70th floor of the U.S. Bank Tower, the 45-foot outdoor glass slide lets everyone takes in the scenic views and iconic landmarks of and LA, like the San Gabriel Mountains, Pacific Ocean, Catalina Island, the Hollywood Sign and Santa Monica.
Made entirely from 1-1/4 inches thick glass and approximately 4-feet wide, the super strong skyslide is designed to tolerate an 8.0 earthquake and 110-mile-per-hour hurricane force winds. A popular tourist attraction, the society claims to have sold over 5,000 tickets on opening day and its popularity can be seen from the fact that live show like Jimmy Kimmel also made certain to test their courage and glide 1,000 feet above LA.
Officially opened to the public on 25 June, the OUE Skyspace LA will be receptive to the public year round. Apart from providing a thrilling ride; the building in the center of Downtown LA, the top floor of the building offers various amenities like multiple lobby spaces to savor the view, cafes, restaurant/bar, and entertainment choices.
A genuinely terrified @IamGuillermo rides the #Skyslide 1,000 feet above LA…https://t.co/iT1vcEmmeC

— Jimmy Kimmel (@jimmykimmel) June 23, 2016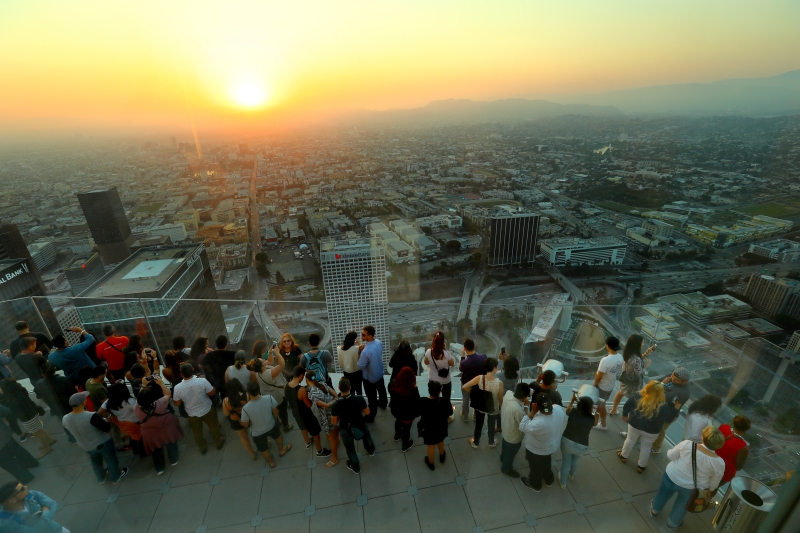 Via: MyModernMet