You have no idea what to do with your supercar fleet in the garage, but there are some basic rules you should adhere to. For starters, never park your supercars on the street because street parking can do some ugly things to your prized possession. Second, if your car is an integral part of your life, you should consider parking it inside your home or apartment. Even better, park it in the living room, where you and your guests can admire it.
This is a home design trend for billionaire property owners all over the world who love their cars, and keep them off the streets in a safe haven. After spending a lot of money of them, you want to at least show them off. So, here are a few inspiring homes and apartments that'll motivate you to live like this.
Garage Terrace House in Kyoto, Japan
The Garage Terrace House by Yoshiaki Yamashita Architects & Associates is a single-storey timber structure designed with car enthusiasts in mind. The house features a visually transparent area for parking your supercar, and you can view it from anywhere on the floor. The garage can also be converted to an interior courtyard if you do not yet own a supercar.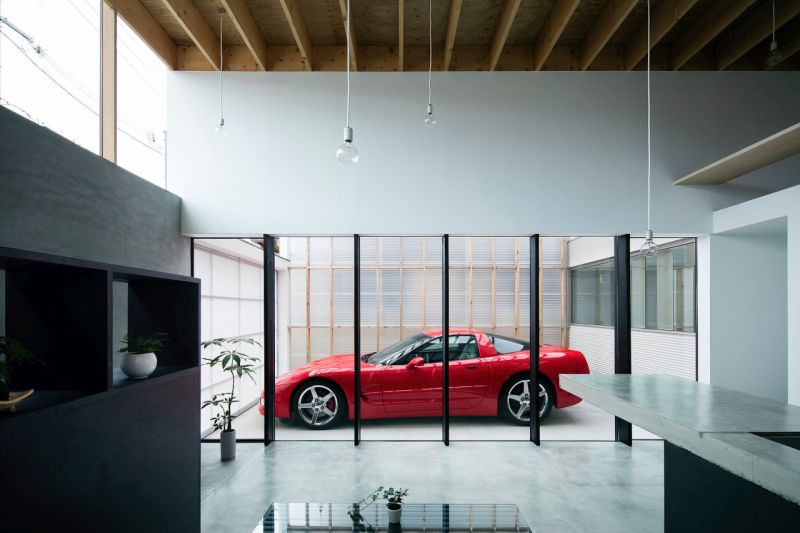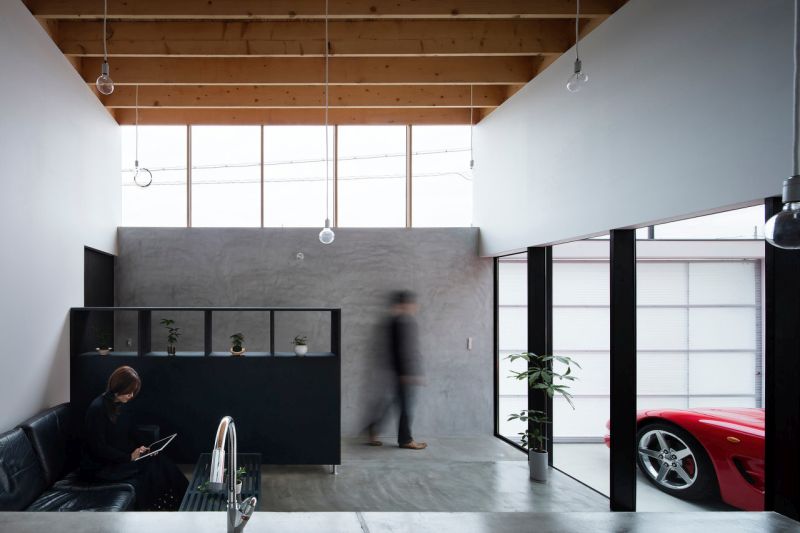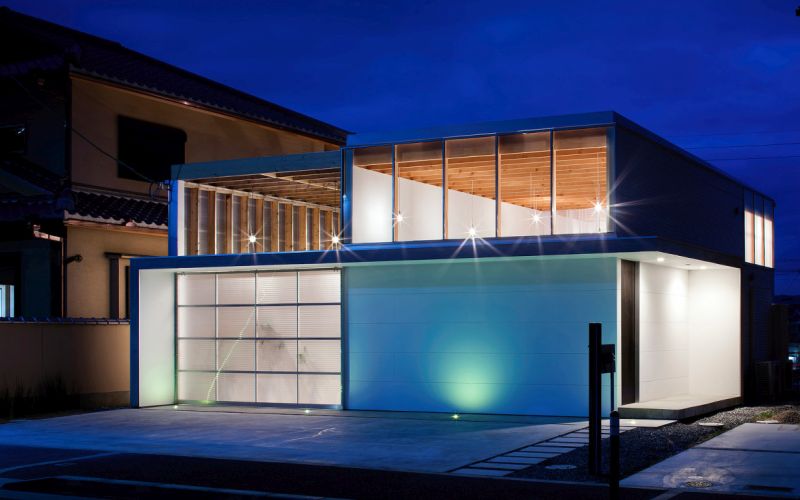 Eric Murphy's $600,000 man cave
Car enthusiasts often love to boast their luxury cars in one or the other way. Making in-house garage to show-off these speedy beasts is becoming popular among owners of supercars. Eric Murphy, US-based 55-year old health executive, is no different- he spent $600,000 million on creating a man cave that features Ferrari F430 besides the main seating area.
It is located at AutoMotorPlex, a pimped-out garage complex outside Minneapolis, and is bought by Murphy for $300,000. He spent another $300,000 embellishing it up with a garage, a 900-bottle wine cellar, gourmet kitchen and a master suite for his wife.
Murphy decided to buy the property soon after he realized that his kids' bikes are cluttering his garage space where his beloved cars are parked. So, to increase the garage space he spent a huge amount on construction of this amazing car condo with luxury adobe.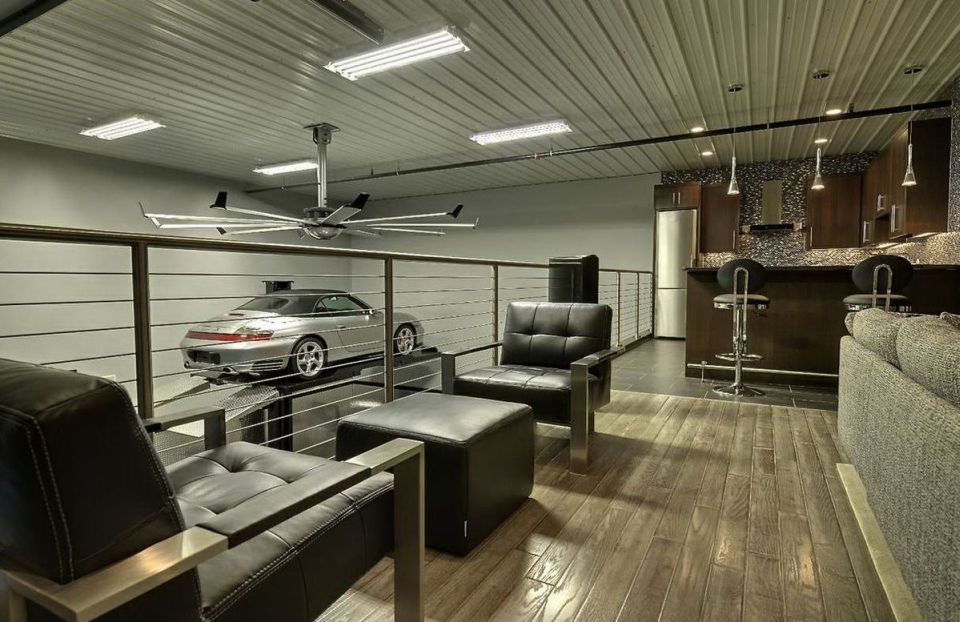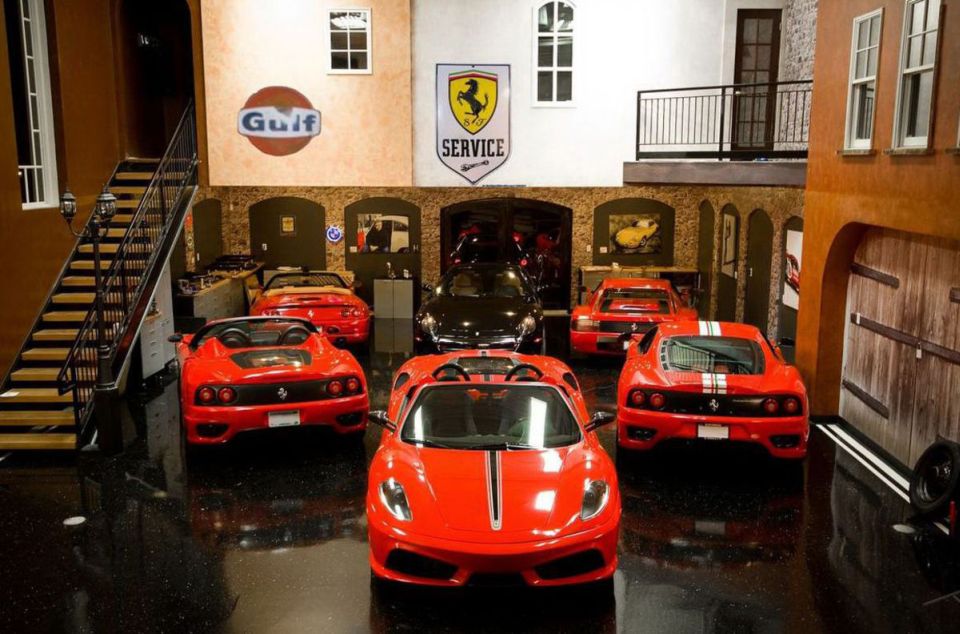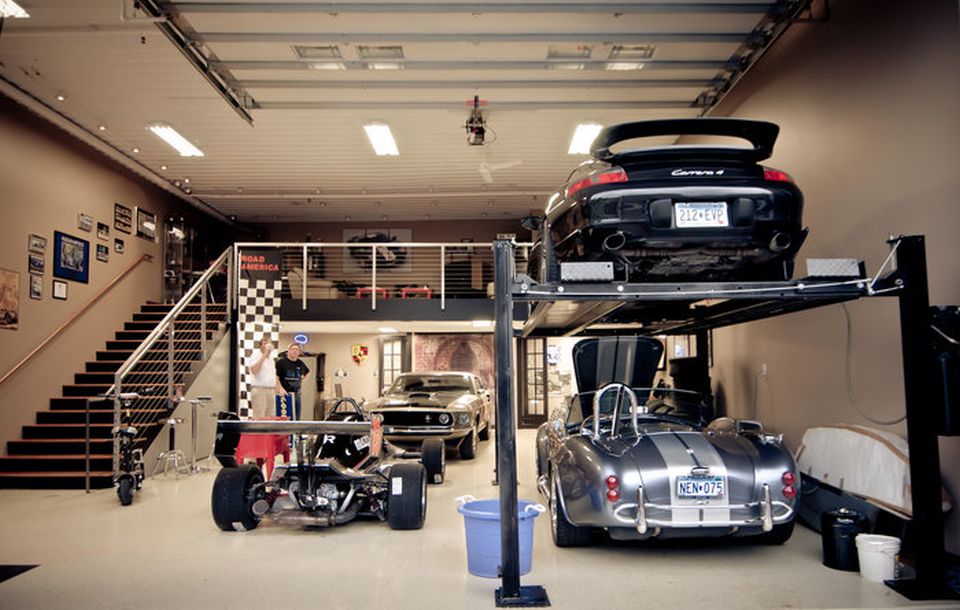 Reignwood Hamilton Scotts in Singapore
Reignwood's Hamilton Scotts is a residential tower in Singapore offering residents the tallest en-suite elevated car porch residences in Asia, with modern lifts available for transferring your Lamborghini directly to your apartment. The 56-unit tower is a short distance from the famed orchard road district and built on 12 hectares of parkland. Each residence in the unit has two parking spaces for displaying luxury vehicles with high-end living.
Built just before the 2008 financial crash, the tower features a basement park with moveable metal plates. Residents enter a code or input their fingerprints, which sets the lift to slide the vehicle into the relevant living room. Unfortunately, you cannot ride in your car up to the apartment.
https://www.youtube.com/watch?v=BGBZSPuO7Jk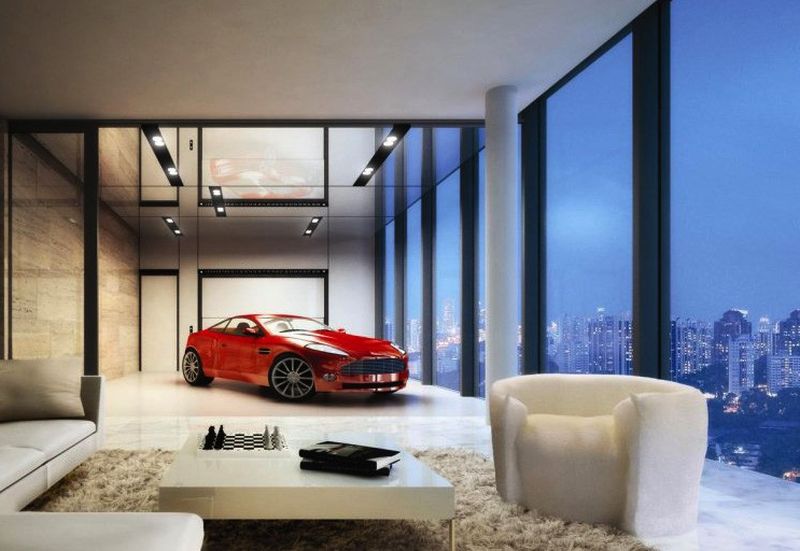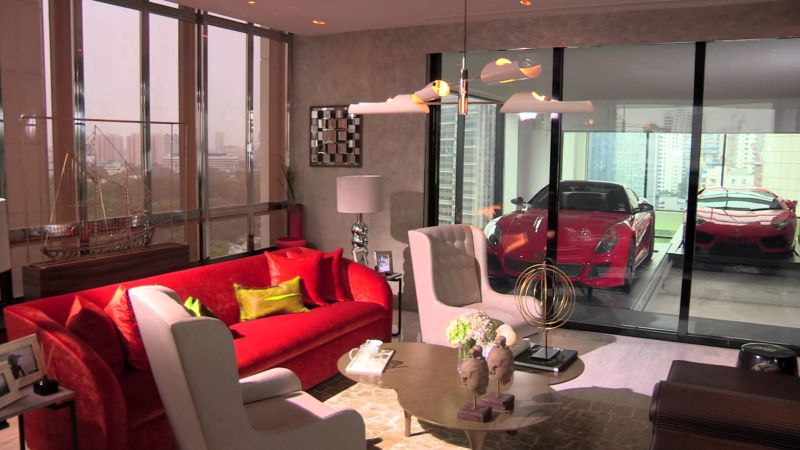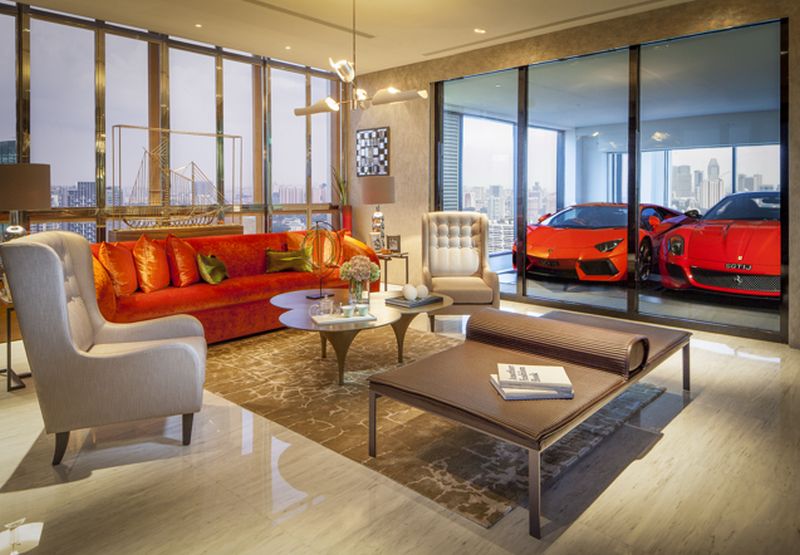 Ettore 971 Bugatti-themed villas
Damac Properties, Dubai-based luxury real estate developer, has come up with Bugatti-inspired limited edition villas dubbed Ettore 971, named after company founder Ettore Bugatti and Dubai's 917 international area code.
These 55 million-square-feet luxurious seven-bedroom villas boast floor-to-ceiling glass wall to maximize light entering the interior space, especially the living space. The highlight of this ultra-premium home is its unique glass-walled parking space with Bugatti sports car right in the middle.
The world's first Bugatti-styled villas are conceptualized by designers of the Bugatti Veyron to feature car-themed lavish interior along with an indoor vehicle display area. So you can cherish your car from any corner of your living room, even when you're not driving it.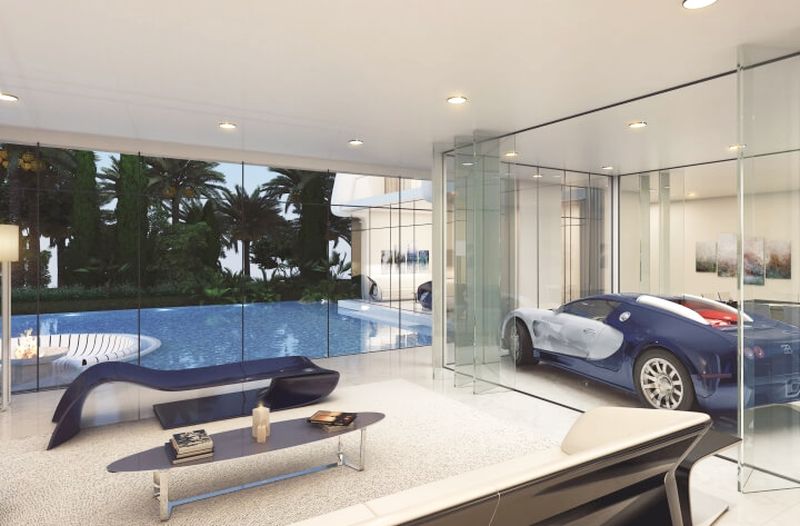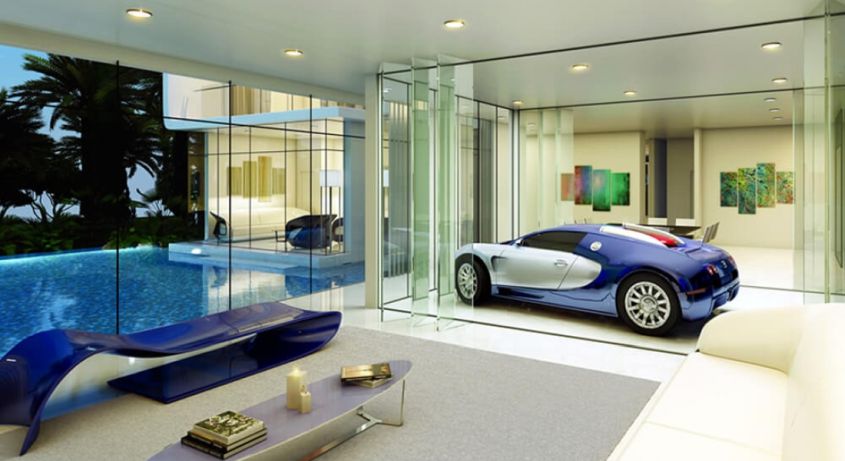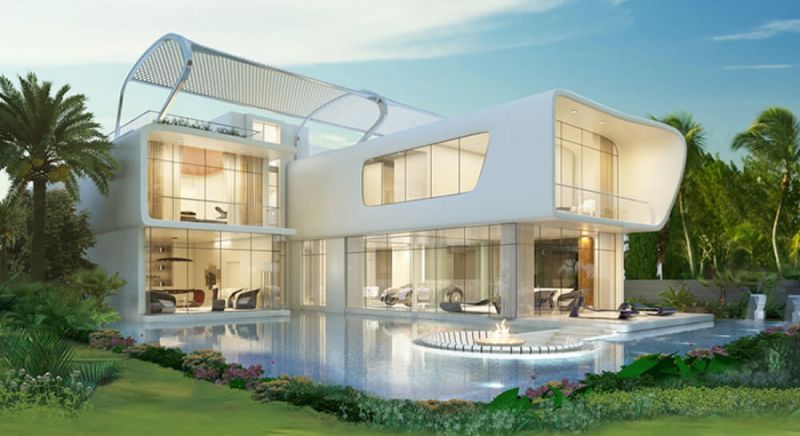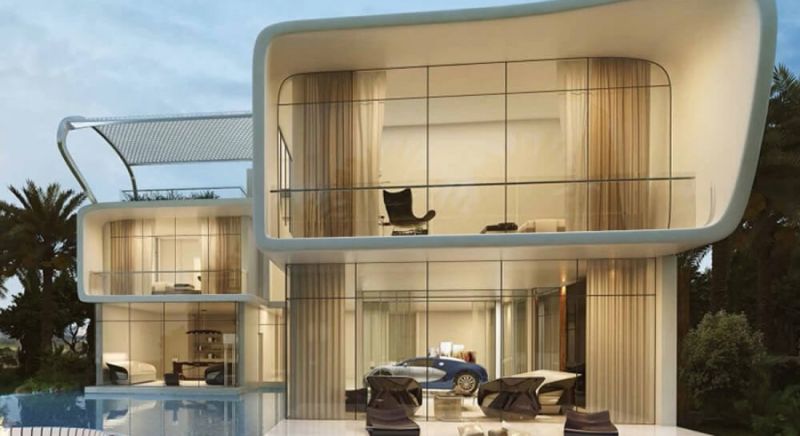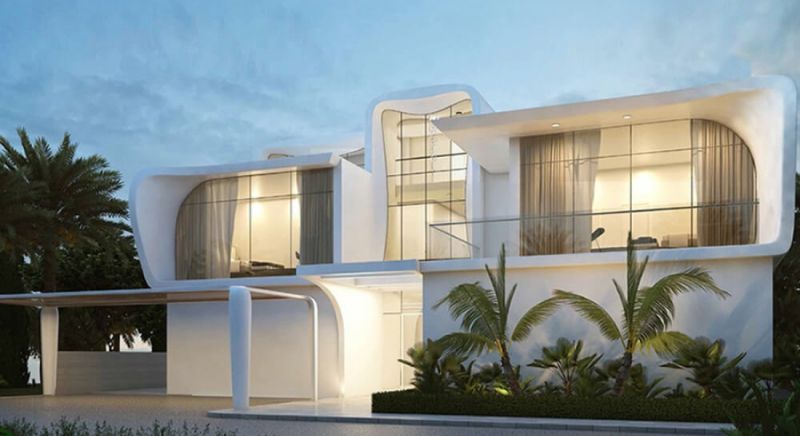 3-Storey House in Sai Kung, Hong Kong
The owner of this three-storey house in Hong Kong couldn't live with the idea that his precious vehicle would spend nights, tucked away and out of sight in a garage. This is a thought that many Ferrari fanatics share, and this homeowner transformed it into reality with the help of designers at Millimeter Interior Design.
The style of this apartment is minimal, with a strong use of glass and metal for a geometric design with ample space without excesses. View of the car from the living room is the crowning touch of class and modernity expressed in striking finish of simple forms. The owner's intention wasn't to improve the interior of the home, but to look for a practical solution that allowed him to admire his car from the luxury of his couch!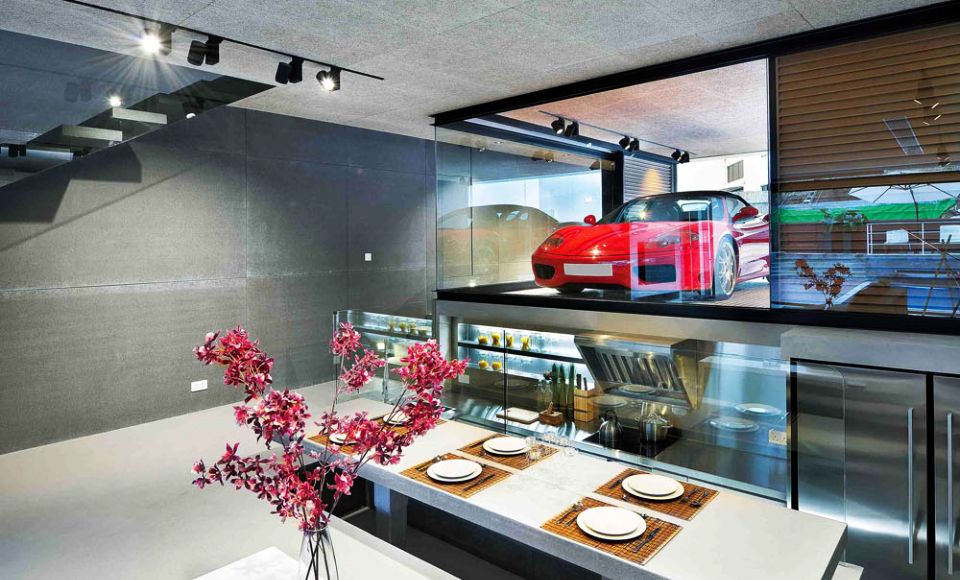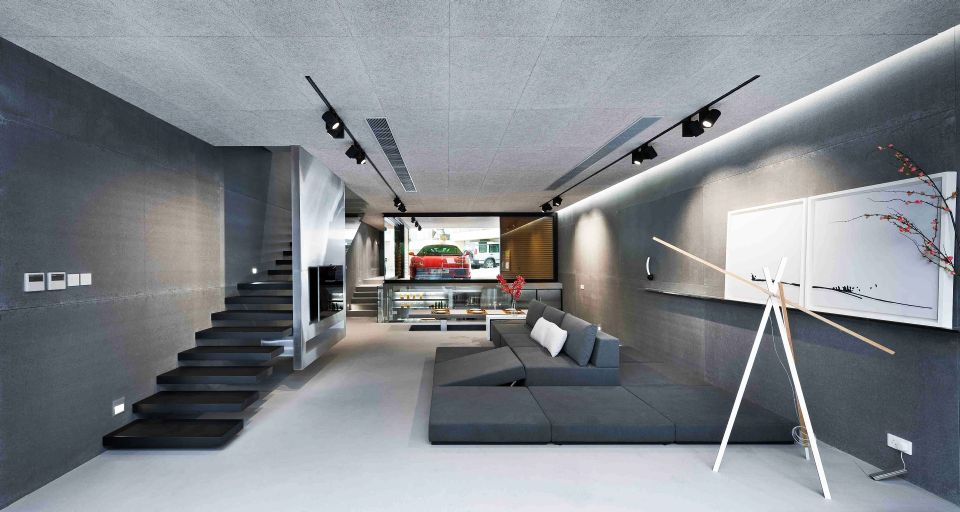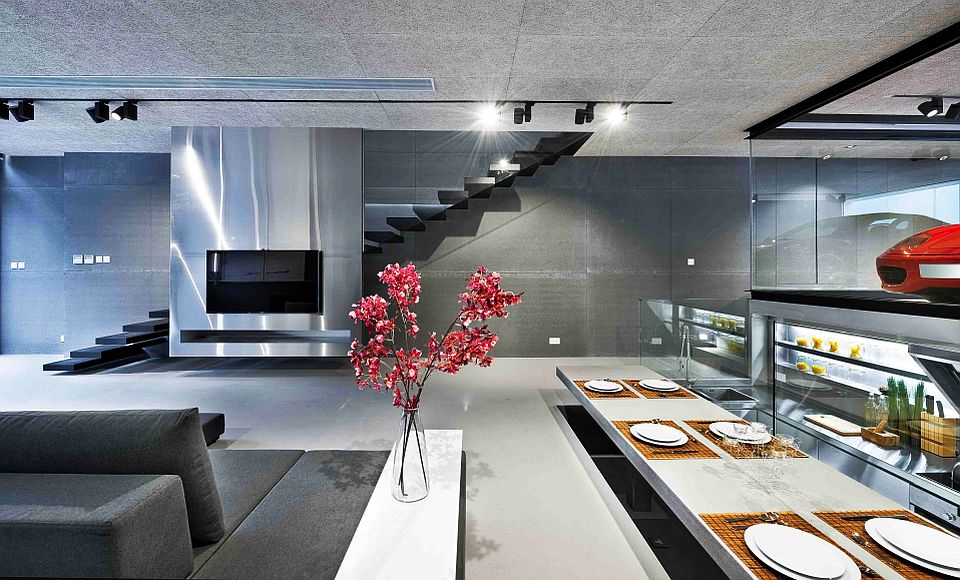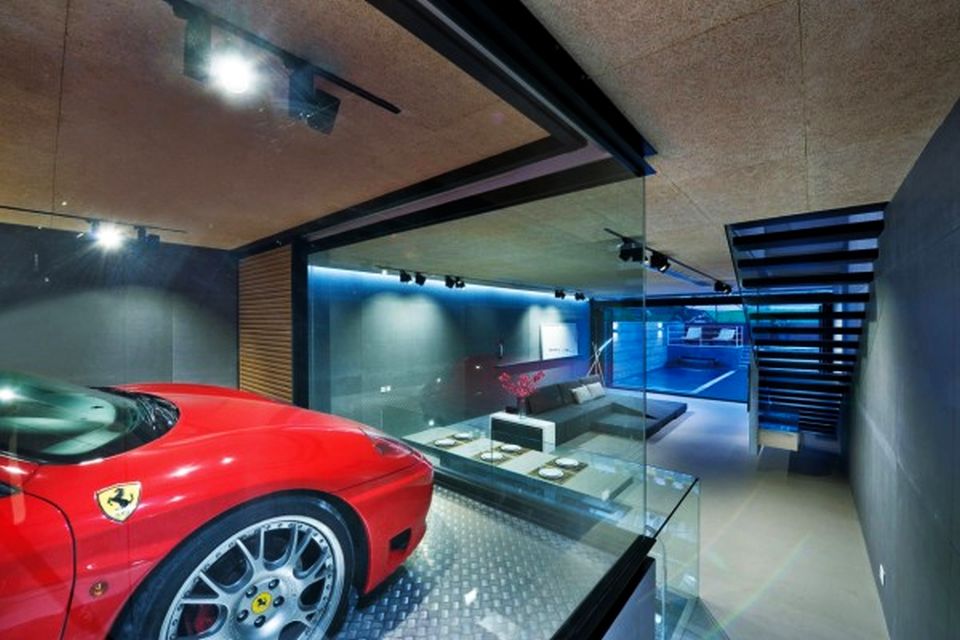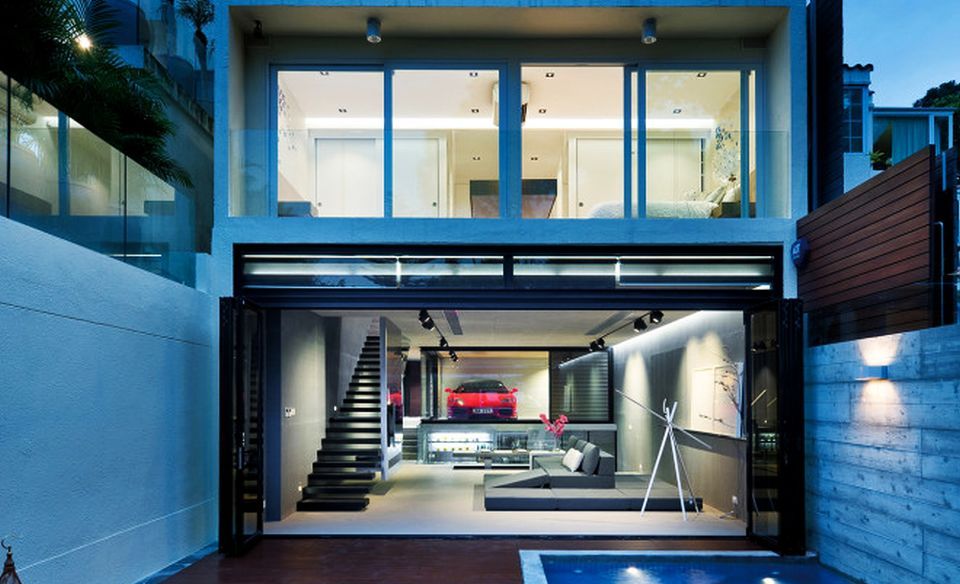 Iron Man Cave in Bowdon, Northwest England
A UK homeowner turned the fantasy Iron Man's man cave into reality by transforming the basement car park to an automated, luxury entertainment area. The garage space has a rotating turntable, and encases a McLaren 650S Spider in curved glass and leather. The home has over 15 sensors that take care of things like gate and garage door automation, ensuring that AV, heating and lighting systems are activated as soon as the car arrives in the driveway, even playing the chosen music.
The project took 10 months to complete, and has won awards for the CEDIA "Best Custom Solution," and Crestron Integration Awards' "Best Innovative Solution." Apart from the obvious wow-factor, the automation and intelligent control systems help add a genuine convenience factor.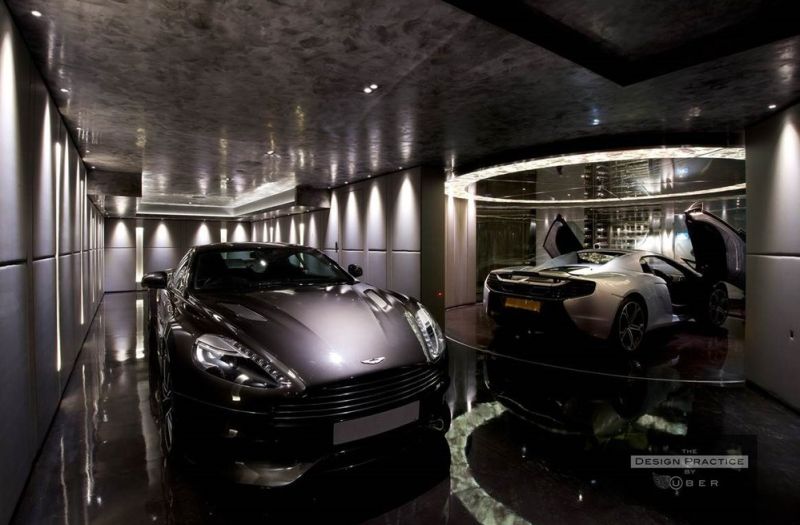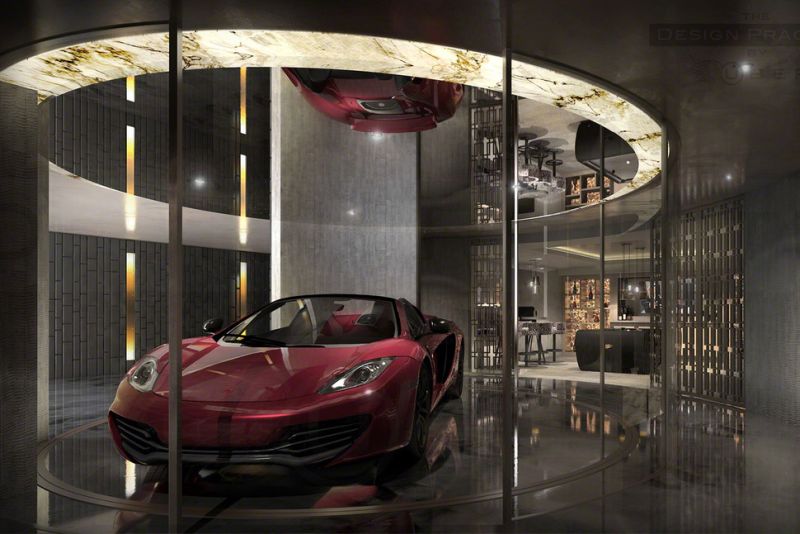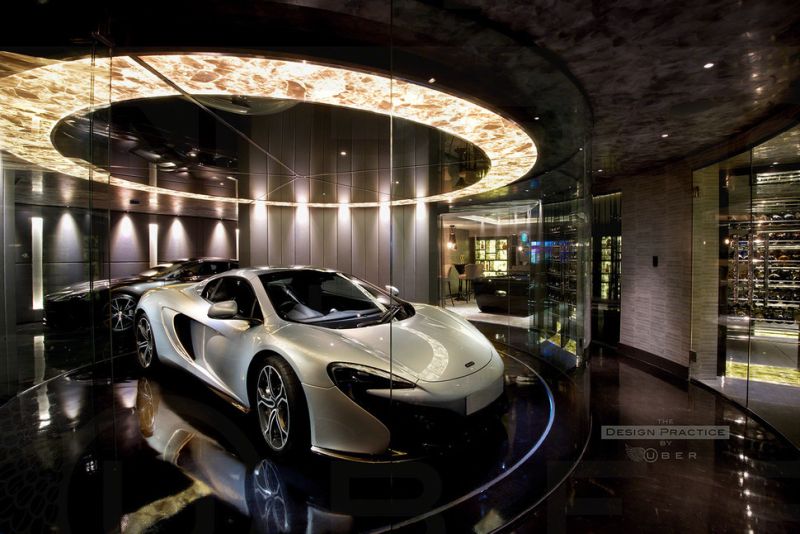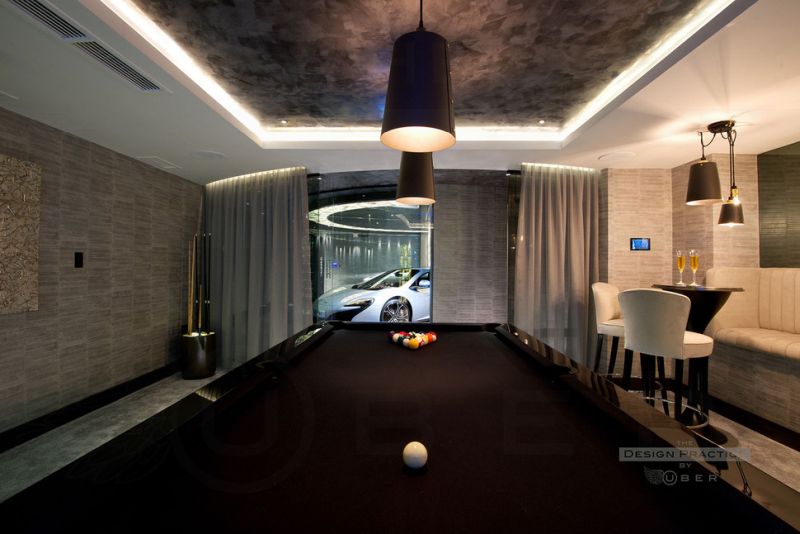 Living room Ferrari F355 Sheffield, England
28-year-old Jon Ryder from Sheffield, England is a diehard Ferrari fan so he likes to park it right next to him. Literally sleeping with the supercar parked by his side. The 1996 Ferrari F355 is his love and he says that it's his favorite piece of Italian art, that's why he placed it right inside his house. Everything is done under budget to make the parking of this supercar possible, and Jon is proud of it.