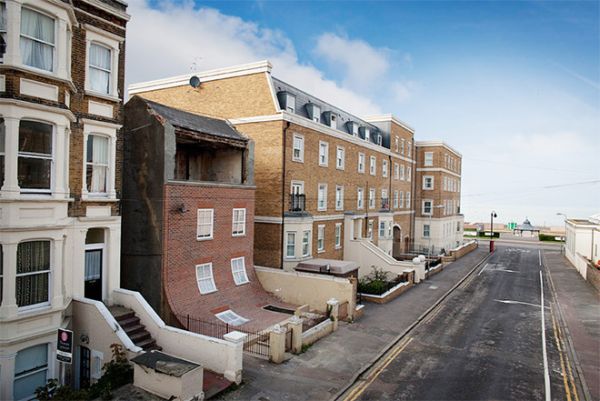 British artist and designer Alex Chinnek, showed his love for old and abandoned buildings earlier when he mingled an artistic tinge to an old factory in Hackney, east London. He has done it again by transforming a deserted house in Cliftonville into his new art piece, a Sliding House. His new art installation is entitled as 'From The Knees of My Nose to The Belly of Toes'. His art has adorned the abandoned house of Cliftonville in Margate, Kent Island.
He peeled off the façade of this four story house and reconstructed a new, curved front with bricks and cement over prefabricated panels. This curved front slid down to the front garden of the vacant property, revealing the upper storey. Art Council England that is a public funding agency for culture and art in the UK, financed the artist to blow a new life to the old, discarded property owned by the Council.
The artist chose Cliftonville as the location for his artwork because of the glory and dignity of the architecture of this place and also because of the challenging social issues that  the place faces. Alex combines art with architecture in all his works and creates a sense of humor and illusion that can be understood and also enjoyed by every onlooker.
Via: Huhmagazine