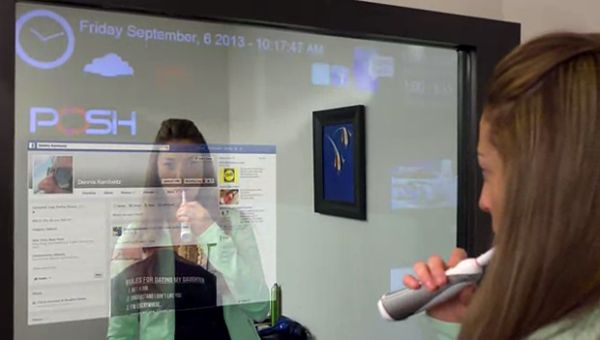 We have had our fair share of covering impressive mirror specimens, ranging from the music playing ones to the light integrating ones. However, this time around, the iMirror seriously takes mirror technology to a whole new level by serving as a 'smart' contrivance. The product was recently unveiled by a Canadian company named Posh View, with an aim to bridge the gap between an interactive device and a vanity component. In fact, according to the designers, an average person spends around 168 hours (which equals to seven days) in an year in front of the mirror. And this is where the iMirror really shines by utilizing the substantial time to show you videos, and provide you with the advantages of checking your mails and internet surfing.
The iMirror achieves all of these features by doubly serving as a touchscreen device which can be connected to the net. Of course, net connectivity entails an assortment of apps; and in this regard, the mirror can have access to your favorite ones like Facebook, Twitter and Google Maps. And, if you thought – 'by now technology must have played its part', you are sorely wrong. The iMirror will also integrate voice commands that would help in the navigation process through the user interface.

As for the commercial scheme of things, the conception is still in its crowdfunding stage in Kickstarter, with unfortunately just around $32,000 pledged out of the $200,000 (in CAD) goal. Perhaps, this has something to do with the hefty pricing for each iMirror model, with a tag of $1,449 (for a smaller model) and a range starting from $2,749 for the regular models.
For more details, check out the Kickstarter product page.