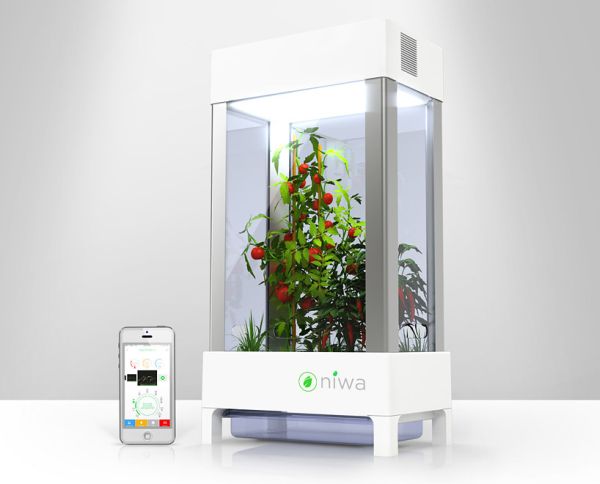 Isn't  it amazing if you come to know that you can have the experience of the freshest, healthiest and the most organic taste of fruits and vegetables right from your living room and that too just with a touch of your smartphone? Yes, its absolutely true, because UK based startup Niwa has developed a truly unique device that can be controlled by your smartphone to grow vegetable and fruits indoor. If you are pressed upon time, have a space crunch or lack knowledge about farming but still love to have a kitchen garden ,then this hydroponic gardening system is just appropriate for you.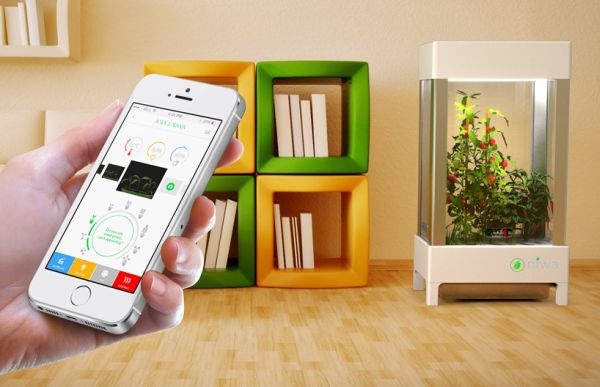 Niwa is a combination of  hardware and software that work together to make your indoor farming experience fun and hassle-free.The brain of this device is a powerful micro-controller that has all the expertise of an experienced farmer. It has an arrangement of sensors and actuators that create a perfect growing environment for your plant, watering and feeding them exactly according to their requirement so that they grow healthy and strong.
This fully automated system requires no knowledge on your part about maintaining your plant. Niwa will take care of everything, providing your plant optimum conditions required for its growth, be it the right temperature, humidity, nutrition or light. All you have to do is plug the device, connect it to the internet through your phone and download the dedicated app. Follow instruction given to plant the seeds and tell the app what vegetables you are growing. App will load a specific program for that particular vegetable. As it grows, the app will ask for feedback with simple questions like, can you see leaves or can you see flowers. Based on the responses, the software will adjust the settings to provide an even better environment for the growth, hence in a way making your plant interact with you.
Though the system is automated, some minimal amount of maintenance is required as you are caring for real plants. Depending upon the plant, you will have to refill the reservoir every 2-4 weeks and clean it regularly. You will also have to remove dead leaves and add nutrients on regular basis. However, as all these tasks are managed through apps, you will be notified exactly what to do and when. As the system is based on hydroponics, there is no soil and hence no mess. All you need to give your plant is some love and it will in turn give you an experience like playing a Farmville in real life.
Niwa is the world's first smartphone controlled plant growing system that is so easy to operate that even a child can use it. In contrast to bigger hydroponic systems that are complicated, expensive and aesthetically not very pleasing, it is more stylish, simple and affordable. The current prototype measures  35″ (91 cm), 8″ (21 cm), 19″ (49 cm), whereas the smaller one is 68 cm tall. However, in near future they will be available in a number of different sizes and in a vertical shape or an aquarium-like model. As for  now, with the current range of sizes, you can grow most house plants, vegetables, fruits, flowers and various herbs that will fit inside the tray. However, root vegetables cannot be grown as they require a different tray, which will be available in near future.
Niwa device comes with the seeds of your chosen plant and a supply of nutrients. If you want to know about the amount of produce it will yield, well then, a standard size will yield 3 to 5 tomatoes a week, 2 to 3 peppers and one salad when functioning at peak. The produce is likely to decrease as the plant matures. Niwa is however scalable hence, the produce can be increased by adding more devices. Soon an expandable modular design will be offered with greater versatility.
The smart device is not available for purchase as of now, but the founder Javier Morillas 
has launched a Kickstarter
 campaign to get the project off the ground.