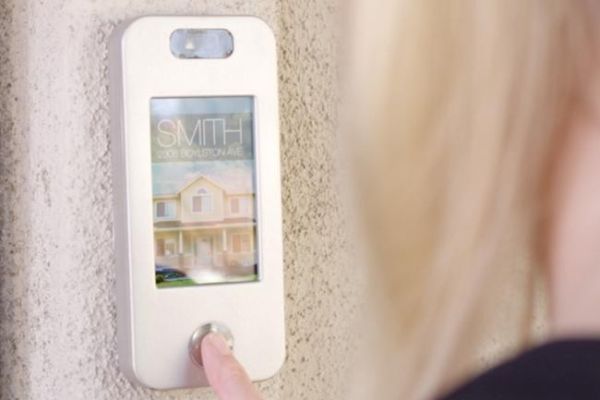 How many times have you left messages at your front door on a piece of a paper for an unexpected visitor? I guess a large number of times. Now you don't have to do that because Scrambled Brains Tech – a Las Vegas based company – has come up with an advanced provision in the form of Smartbell, which connects with your home Wi-Fi and notifies your smartphone about the visitor at your main door through sound and vision.
When a person arrives at your doorstep and presses the Smartbell, the device gets in touch with you on your smartphone via Wi-Fi and notifies you about the visitor. The integrated mic, speaker and camera in the Smartbell lets you have a real-time video chat with the person through your smartphone and hence can convey him/her your message. The Smartbell can be customized with messages such as phone number, a do not disturb request, note for someone. Not only that, it can also click the photograph of a visitor notifying you who stopped by your doorstep.
The device comes with a high-resolution infrared LED camera, 320×480 touchscreen display, motion sensor, a doorbell button, a microphone and a speaker. It is compatible with all iOS, Android devices and Z-Wave home automation equipment, which performs tasks like opening doors, controlling lighting & security cameras for you.
The company is planning to launch a Kickstarter campaign soon for the Smartbell project. The estimated price per unit will be $279 when it hits the shelves in March 2014.
Via: Digitaltrends