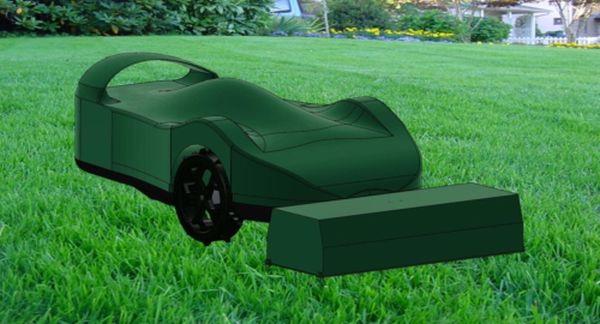 Yesterday, we talked about how a MIT team has created robots that can assemble IKEA furniture items in our homes. And, now we have another robotic conception at hand, this time for the outdoors. Florida based RoboLabs have 'Kickstarted' their project of offering a robotic lawn mower which is touted to be affordable, sustainable and most importantly safe for our children and pets playing in the lawn. Christened as the 'SmartMow', this compact yet powerful conception is infused with loads of features like sensors and GPS that basically notch up the technological as well as convenience level of lawn mowing.
According to the designers, the injury statistics from ordinary lawn-mowers is increasing every year. On the other hand, the so called 'robotic' lawn mowers available commercially do not actually follow the laws of robotics (which specifically deal with human safety). However, the SmartMow is integrated with an advanced proximity detection mechanism that automatically stops its blades within a fraction of a second, if a kid or a pet comes close to the mower-robot.
Beyond safety measures, the bantam 31 x 16 x 10.25 (in inches) SmartMow runs on emission-free Lithium-Ion batteries. In fact, the robustly structured device boasts of a pretty efficient power-train, which allows it to automatically run for up to 4 hours (with 45 minutes of recharge). Its navigation credentials are also buffed by GPS, accelerometer, camera and a front wheel drive system that shields the robot from tripping over undulating terrain.
Finally, coming to its scope of usability, the SmartMow is pretty easy to install. Like other comparable 'smart' systems, users can directly access its customization options via Wi-Fi, in a specially created web portal. The Wi-Fi connectivity also allows the company to fix bugs and upgrade existing features of the robot-mower. For more details, refer to the Kickstarter link.
Via: Kickstarter