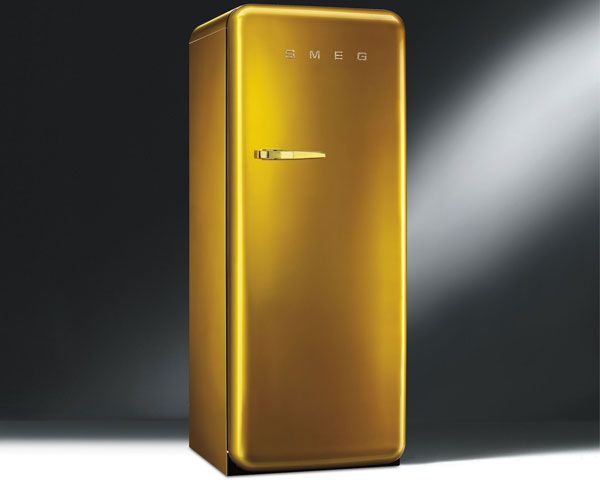 We still fondly remember Smeg with mushy memories of the Fiat 500 mimicking mini-refrigerator. And, now the Italian appliance manufacturer is back with a bling! Already known for their retro styled refrigerators, this time around the company has unveiled the Gold Retro FAB28OR. As the name suggests, the contraption notches it up on the ostentatious scale with its all golden facades that glimmer and glitter their way to glory. And, if the brazen opulence of gold was not enough, the surfaces are further complemented by Swarovski crystals that spell out the logo of Smeg.
Coming to the interiors of the Gold Retro FAB28OR, the fridge was never meant for everyday practicality for us regular folk. In this regard, the space comprises of 9 cubic ft of volume that is a bit on the lower side, with conventional features like safety glass shelves (three of them being height adjustable), fruit and vegetable drawer and a dairy box. Of course, the Gold Retro makes up for it by its ritzy quotient, with a chrome-plated bottle carrier that would play a coy companion to those high-end bottles of wine and champagne.
Finally, as for the commercial side of affairs, the Gold Retro will only be available in the European market (for the time being) with a retail price of  €2,100 (or around $2,800). And, in case the consumers are not actually comfortable with all the bling, they can also opt for other Retro models that simmer it down to a less-than-gaudy level. These designs include – a striped patterned model, a denim patterned model and a Union Jack draped model.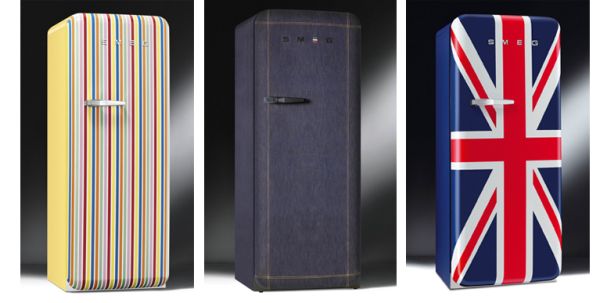 Via: Appliancist