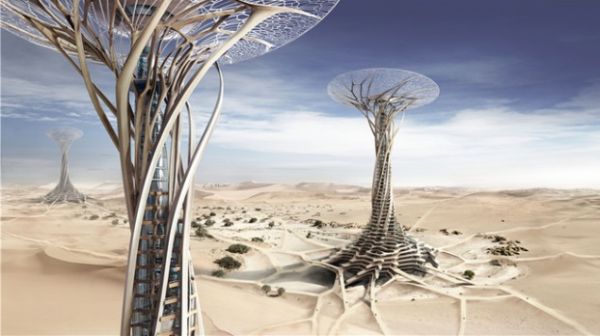 While world population increases manifold by the day, and deforestation makes deserts increase in number and size, it was only matter of time before someone thought of utilizing deserts to provide more housing. Chinese designers Qui Song, Bai Ying, Ren Nouya, Kang Pengfei and Guo Shen have sight on the unthinkable with their desert skyscraper dubbed Sand Babel made from 3D printed sand and powered by the sun.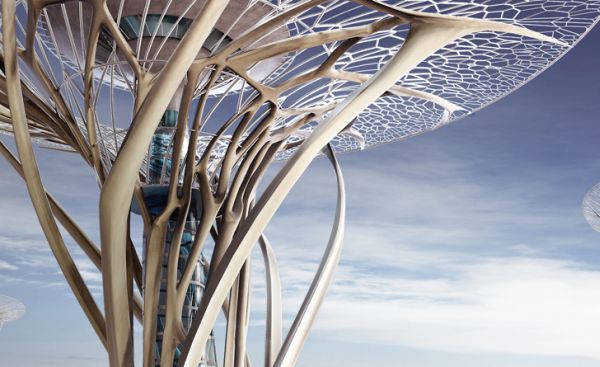 With the Sand Babel, designers envision to make Sahara a residential colony, they wish to create a network of skyscrapers across the heart of the desert. The Sand Babel will be manufactured using solar-powered 3D printer and would be constructed using sand. Designed in shape of twisting skyscraper, the solar-powered, 3D printed Sand Babel will have a network of underground tubes, which would comprise of residential spaces, facilities built from tourism prospective and a spaces for carrying out scientific research.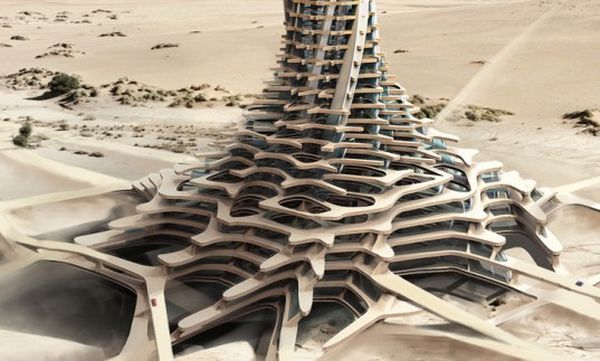 The forward thinking Sand Babel from Chinese designers has two chief sections – one is underground and the other above the ground. The skyscraper upper section is a kind-of spiral skeleton, while the tree-like lower structure is made to keep the building stable and to prevent sand from flowing in.  The underground section as mentioned, acts as the root of the structure and comprises of all communication facilities.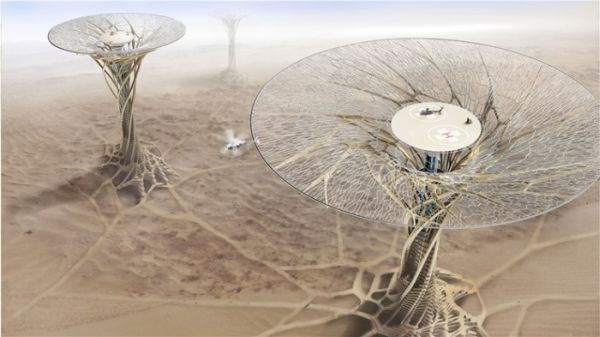 Interestingly, the spiral section of the skyscraper will have a mushroom-shaped roof with water generating system. The roof would use temperature difference in the structure to generate water through condensation. The building also boasts a Dual funnel cross ventilation system, which would keep the interiors of the structure cool all day.  For its futuristic design, the desert skyscraper earned an honorable mention at the annual eVolo skyscraper design competition.