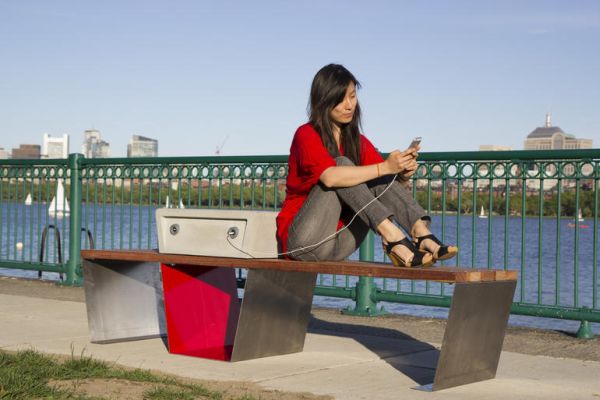 When tired of your busy life, you often visit the nearby park, sit on the bench and listen to your favorite tunes on the iPod, while enjoying the serene beauty around. What if the battery of the iPod runs out in the middle of your relaxation time? Well, with a Soofa Park Bench installed in the park, you wouldn't have to worry about the juice in your iPod. The bench has a small charging station integrated over it, where you can power your tablets, smartphones and other small gadgets through USB cable. Moreover, the bench is also sustainable as it harnesses the energy of sun to collect power in the charging station to juice up your gadgets.
The Soofa Park Bench is a brainchild of three women namely, Jutta Friedrichs, Sandra Richter, and Nan Zhao; all of who are co- founders of Changing Environments, a MIT Media Lab spin-off. Besides charging your devices using solar power, the bench also serves as a data hub, where you can get every sort of information on the noise level and air quality of the city. This data can be easily accessed online and the user can get information about the environment, weather and noise levels where the Soofa is located.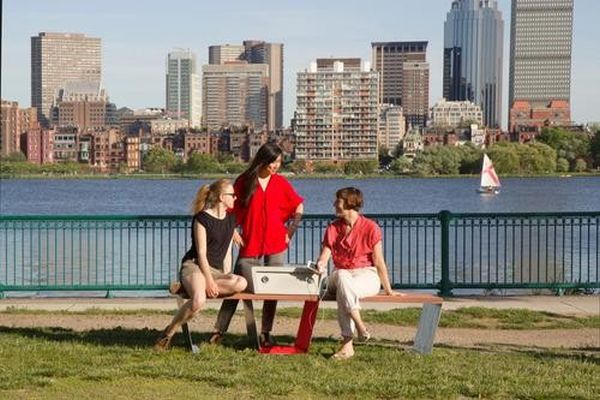 The start-up is initiating with parks of Boston and Cambridge to install their smart urban furniture, Soofa. Although, the live data feed isn't up and running for them quite yet, but once it goes live, the visitors to the Soofa site will get to see, the number of people who have charged their gadgets, the average daily visitors of the park, the solar charging hours provided and also the data regarding the surrounding environment of the park. Check out the video below where Mayor Marty Walsh and a co-founder of Changing Environments have a word on this interesting green installation.

Via:
CNET