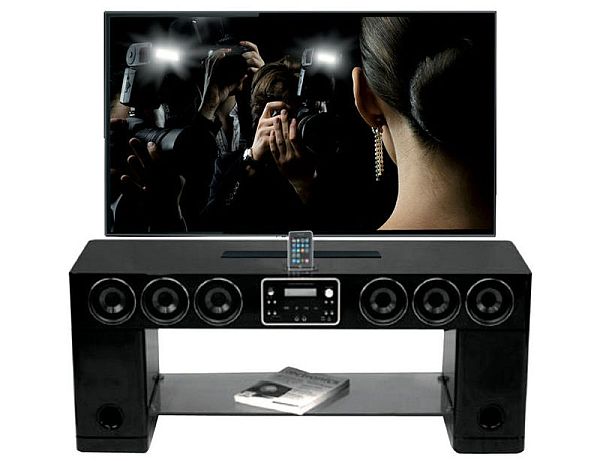 Sound and image has always proved to be the two pillars of any fancy home theater system. However, since home theaters do take up a lot of space inside your house, its form should also be important in context to its visual appeal. Exhibiting this 'furniture' side of affairs, we finally have the one and only Soundvision SV400 Black. Touted as a TV stand furniture piece combined with a state-of-the-art 5.1 channel speaker system, this 210 W monster comes with a slew of features.
The creators have made it clear from the exquisite design that they wanted to fuse the elements of both elegance and technology. The delicate black lacquered wood finish alludes to this opulent visual appeal. However, the end result goes beyond the scope of just design flair, by offering us the very best of sound, images and applicability. This is made possible by Soundvision's myriad of features. Those include the aforementioned 5.1 channel music system (with frequency responses of 150Hz-20KHz for CHannel RL and 40Hz-180Hz for subwoofer). Other attributes include the system's compatibility with plasma, LCD and LED televisions, thus offering true HD videos with 1080p resolution.
But the true multimedia effect is signified by Soundvision's dual functionality as an iPod/iPhone docking station. The formats supported are both WMA and MP3. Priced at €384 (approx. US$ 496) , the 10.5 kg device also integrates other multimedia oriented connections including both a USB port and a SD card, along with HDMI output. These are complimented by decoding features for different video, audio and even image formats (like JPEG).
Via: Auchan