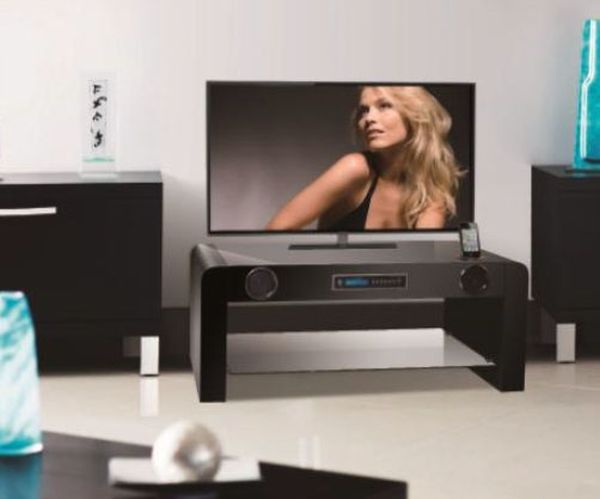 There is always one commercial downside to buying those expensive flat screen TVs, and that is – these systems lack a dedicated sound system to complement the finer visual side of affairs. Well, worry no more, as SoundVision has unveiled their new 'audio furniture' SV-70 BT, which conveniently integrates both a speaker system and a docking station for iPods and iPads. Exhibiting an uncluttered, modernistic design, the system comprises of a cabinet that can easily hold your flat screen TV (LED, LCD and Plasma).
Coming to the sound system of SV-70 BT, it has a 2.1 channel output, along with a dedicated sub -woofer (with its very own volume control). The user experience is further enhanced by the inclusion of various equalizer modes that have genres like Rock, Dance, Pop and other musical entities.
However, the more interesting mechanism entails the docking system of SV-70 BT, which allows a wealth of sources for playing your favorite music, including YouTube videos, personal media library and of course all of Apple devices like iPods, iPhones and iPads. The station can also charge your Apple mobile devices with their latest model compatibility.
Dimensions – 1000X390X420 MM
Multimedia connectivity – USB ports, normal 3.5 mm audio jack and Bluetooth.
Via: MySoundVision