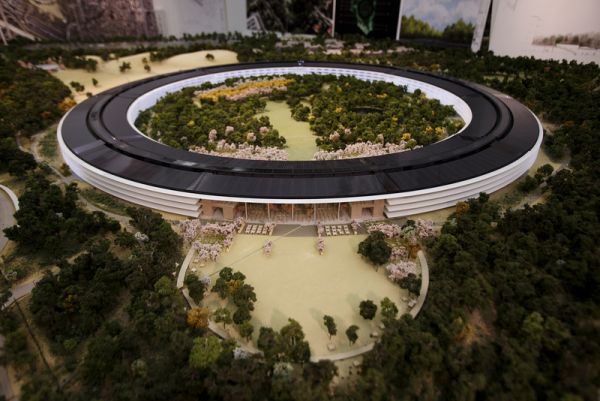 It has been more than two years since Apple ceremoniously announced the planning of their new headquarters that would replace the current Cupertino based campus. And, now the images of this massive spaceship inspired establishment has finally surfaced on the internet, courtesy of Mercury News. Envisaged as a giant flying object that will remain grounded at all times, this new Apple HQ is touted to have a capacity for a whopping 14,000 employees, which is remarkably 5 times greater than the capacity of the current HQ. Of course, for a project of such mammoth magnitude, a whole new site has been chosen instead of the old headquarters. This site was previously occupied by computer giant HP, and has a gargantuan area of 2.8 million sq ft.
The lead architects of the massive endeavor is famous UK-based firm Foster + Partners, who have several contemporary projects to their name. And as with such exalted names and imposing credentials, the Apple HQ is estimated to cost an astronomical $5 billion.
Finally, coming to the spatial and structural features of the Apple HQ, the main form resembles a circular profile with an expansive perimeter. The dark hued 'spaceship' roof of the building will comprise of solar panels, thus upholding the low carbon as well as green attributes of the design. Even in terms of circulation spaces, the campus is divided into user specific areas like parking areas, jogging tracks and a huge 45,000 sq ft auditorium. All of these spatial elements are interspersed by profuse expanses of landscaping comprising of lush eco-systems.
Via: MercuryNews