French product designer Antoine Fritsch and Vivien Durisotti of Fritsch Durisotti design studio have designed Spline furniture range for German furniture manufacturer Schütz Flechtwelt. Although this collection includes lounger, chairs, and dining table made of acrylic bars attached to a stainless steel frame, we will be focusing on the translucent Spline acrylic lounge chair. Each acrylic bar is individually assembled by hand in a stainless steel cling system to make a robust and good-looking relaxer. The innovative fastening technology employed to build its structure adds high load-bearing capacity to the design, while weather-resistant properties of the material make it compatible for outdoor use.
The company has previously won the Red Dot Design Award 2011 for the Spline furniture range that presented new ways of processing rattan with stainless steel. At that time the design team used high-alloyed stainless steel and weather-resistant plastic made of HDPE (High-Density Polyethylene), and now they are using polymer to make a highly-strong, light-weight, and elegant furniture piece.
This acrylic version of Spline relaxer seems to be more promising due to its pleasing crystal clear aesthetics and weathering properties. It is a true masterpiece featuring smooth lines for absolute comfort. With the distinctive design, the acrylic lounge chair adds pure elegance whether you place it inside your home or on the terrace or deck.
The transparency of acrylic furniture makes it versatile enough to suit different interior styles. Furniture makers are widely using this see-through material, and you can have a look at a few previously featured acrylic furniture designs to make a final decision about design flexibility of the material.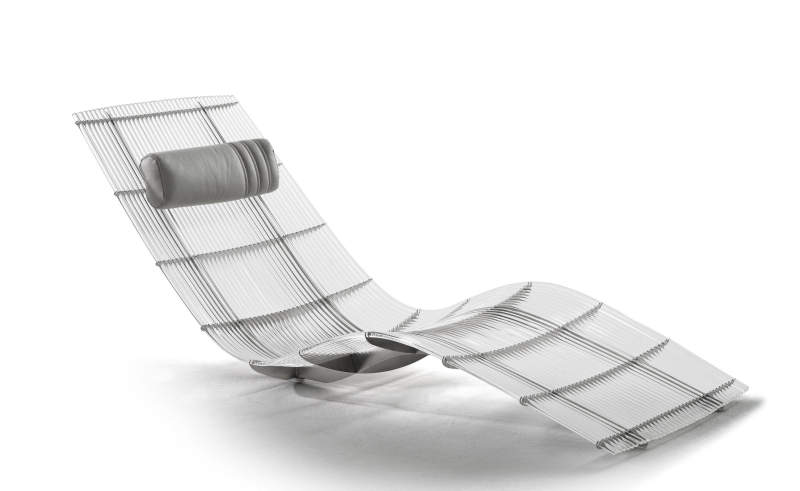 Via: Architonic