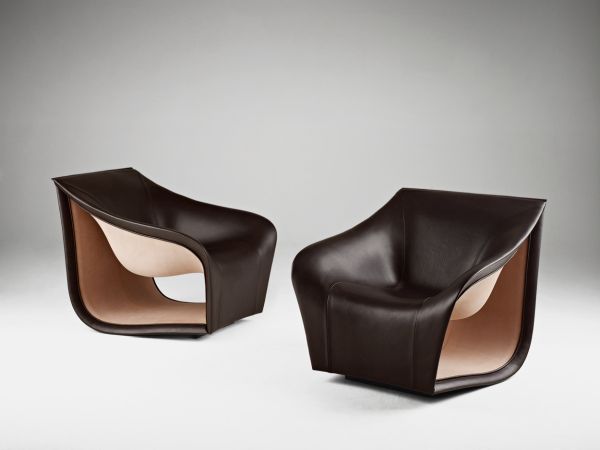 Back in the year 2012 Alex Hull designed the leather and suede sofa called the Split Sofa for the renowned design gallery of London known as Gallery Fumi and was displayed at the design fair PAD London 2012. The asymmetrical sofa is one amongst many brilliant design pieces at the fair as it provides utmost comfort and relaxation while allowing the user to sit or lie on it. Recently, he added Split Chair to his furniture series making a complete range of Split Sofa and Chairs set. The Split Chair for Gallery Fumi were exhibited in PAD Paris 2013. These seating furniture pieces are charismatic as well as  their elegant style makes them interesting to watch from all angles.
By creating the Split Sofa and Chair, the talented designer has scrutinized new ways of applying leather while giving strikingly new dimensions and organic forms to the usual seating furniture. Each piece of his Split collection is light and organic that draws an inspiration from the movement of waves and composite construction of a surfboard. The seamless leather structure with light padding of the furniture pieces, splits open to disclose the lovely and soft suede interiors appearing as if leather has been torn apart.
Alex has combined traditional craftsmanship with modern technology to design these contemporary sets of furniture. The split chair features carbon fiber core clad in leather and suede, while the split sofa is characterized by composite core covered in leather and suede. If you are interested in buying these, then you can get them from Gallery Fumi.
Via: Freshome