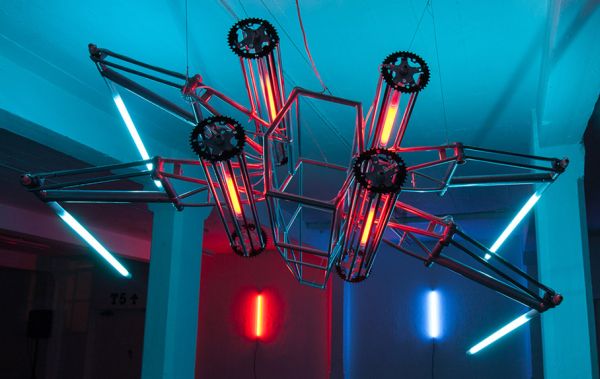 The X-Wing Lamp looks like something that would have come out of a sci-fi flick 'Star Wars.' Its shape, the way it is framed and neon lighting simply brings 'Star Wars' to one's mind. Lighting in a dark room it seems like a star-fighter, ready for a fight. The brilliant X-Wing Lamp is a creation of an industrial 3D designer Benjamin Rice, based in Manchester, United Kingdom and the Northern Backdrop interior designer group. Together they made this lamp for the SPIN London, an urban bicycling show.
It was created for a bicycling show because it is made out of frames of classic children's bike the Raleigh Grifter, sourced from eBay. The superb 3D design and lighting have given a new life to the old bicycle parts. The lighting tubes used in X-Wing lamp provides ample light needed in a living space, so it can be used in houses as well.
It will surely be one of the futuristic décor pieces in a house with high ceiling and enough open space in a living area. Anyone who is a sci-fi fan and loves collecting sci-fi artifacts is surely going to love X-Wing lamp.
Via: Technabob