One of the easiest ways to light up the dark corner or add some atmospheric lighting to the room is to place a cool lamp of your choice. You can get a variety of lamps in different designs, shapes, colors, dimensions or lighting abilities on the shelves today. If you happen to be a sci-fi enthusiast and just love collecting steampunk objects, then this Steampunk Crabby Diver Light will surely become your favorite lighting piece. This sci-fi inspired desk lamp will not only lit up in a color representing your mood, but the creativeness in the design will also make it a beautiful decorative item.
The Steampunk Crabby Diver Light is an interesting piece of an artifact created out of copper, wood, and brass. The eight claws of the crab are made of brass gardening sheers which can be adjusted to position the lamp according to its surroundings.
The bell helmet of this intriguing sculpture includes a battery operated LED light source that can be controlled with remote control, using which you can choose the color of light that reflects your mood.
Available at TheSteamWorks, this steampunk desk lamp is a stunning twist to the variety of lamps being designed today.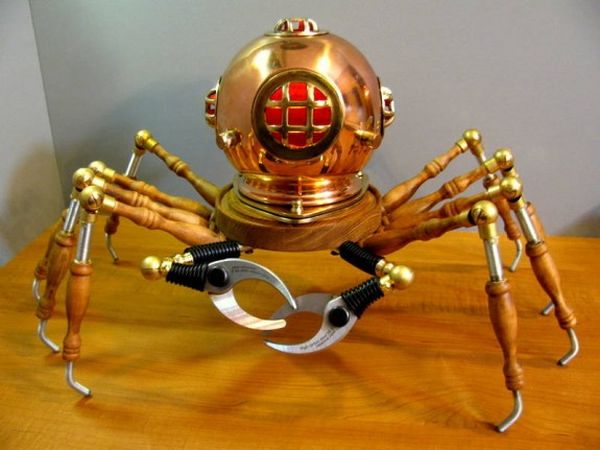 Via: Bespokebug