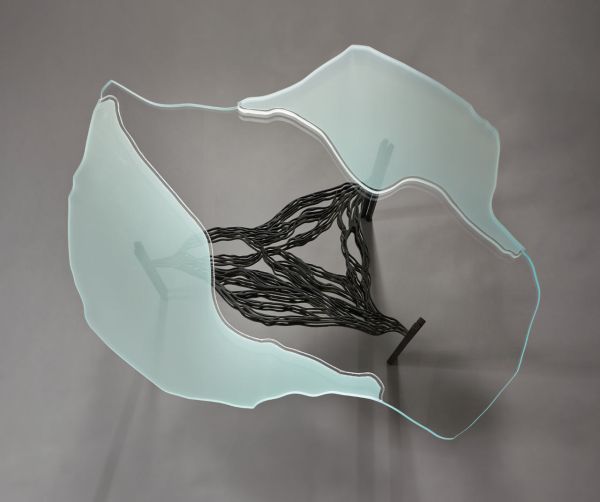 Natural mimicry achieved by industrial techniques – this bold notion has been a sort of Holy Grail for contemporary designers around the world. Among them, Nils Finne has envisioned his creation with a classy quotient and ethereal essence. We are talking about his STEN table series, which comprises of a small collection of two tables composed of layered glass and steel support. These materials were deftly used so as to replicate the natural effect of a boulder surrounded by water (partly inspired by Finne's similar encounter in a beach). The end result is an organically arranged table system that 'plays' with its contrasting facades of transparency, translucency and opaqueness.
The asymmetrically shaped low-iron Starphire glass of the STEN table was crafted by the technique of glass lamination, while their pieces were cut by using industrial water jet. The lower section steel support was also cut by water jet, thus showcasing a same design language pattern, but with different levels of visual scale (like the aforementioned contrast of transparency and opaqueness). The glass are further layered by clear and satin-etched pieces, which allows variant degrees of thickness exhibited by the top.
Nils Finne has went on to explain the overall inspiration behind his elegant STEN table collection –
I am walking along the beach and come upon a large stone boulder, half-surrounded by water. The density and mass of the stone is suddenly transformed as the stone changes to glass and light shines through the entire boulder. Perhaps the glass boulder should be the table. But the forces of geology intervene and the glass is flattened into a few discrete layers, the glass boulder becomes several lyrically shaped planes of glass, still with the memory of the dense stone.
Via: Design-Milk