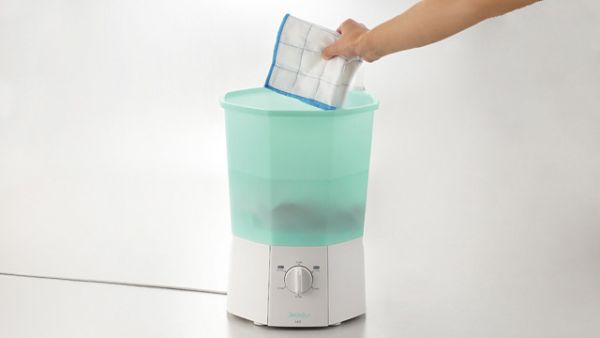 Looking like those heavy juicer machines found in the 80's era, the above pictured conception in reality is a table top washing machine from the Japanese. Contrived by Japan based King Jim company, this bantam (when compared to other washing machines) contraption is christened as the Swash. The limited size of the device only allows around 250 g of clothes to be washed, which practically equates to maybe a shirt or perhaps a pair of socks. But when time is of essence, the Swash really passes with flying colors with its 15 minute washing cycle and just a 3 minute rinse.
Each washing session requires about 5 liters of water, while the usage pattern is pretty simple with its drainage pipe fixed so as to empty into any sink. Anyhow, this is where the functionality of the Swash ends. How so? Well, the device is much smaller than typical washing machines, but still remains bulky enough not to be carried on the go. Moreover, the washing capacity of the conception is much lesser than conventional machines (with presumably no spin cycle mechanism), thus limiting its degree of usability as a credible alternative.
Now, as we mentioned before, when you are in a hurry or just have to wash small loads, the Swash can certainly come to your rescue. Of course, you have to cough up some greenbacks for that privilege in the form of $160 for each machine.