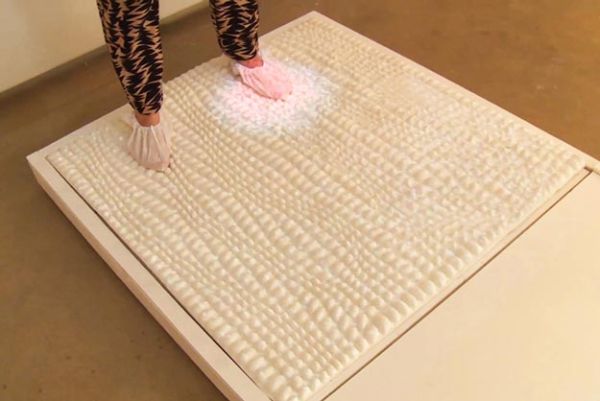 Design student Tashia Tucker has come up with a very innovative and futuristic project that will keep our homes clean and free from dirt with the help of programmed bacteria. Called Synthetic Biology: The Future of Adaptive Living Environments, the project looks into the future and examines that how fabricated bacteria can be used in the kitchens, floor and wall surfaces of a building and perform activities of cleaning and detecting dust, pollutants and toxic substances.
During a course at the Design Futures Lab at Drexel University in Philadelphia, Tucker analyzed how  bacteria can accomplish tasks of cleaning, altering the properties of surfaces to one's need and detecting the presence of pesticides, pathogens and allergens.The project uses micro-processing, depth imaging, video projection, gaming technology, a multi-pedal sensor map & silicone casting to examine how the synthetic bacteria could look/function as surfaces for the next generation.
The project proposes three bacteria embedded surfaces, first of which is a bacterial flooring that removes dust particles and eats off toxins from the user's feet.  The bacteria radiates color and flock to colonize when dust and outside pollutants are present on the surface. Another idea is the living skin wall surface made of bacterial cellulose membrane, which allows users to vary the levels of privacy, light and air quality within the space by sensing human movements and personal comfort levels. The third idea is a bio-detecting kitchen surface that detects unwanted ingredients in food and also recognizes harmful ingredients in food products.