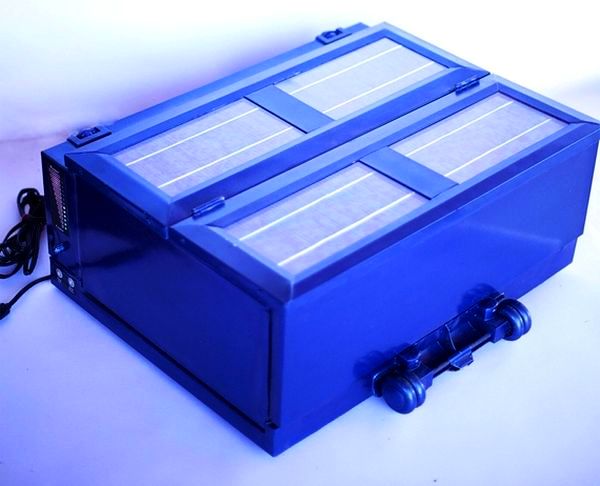 Forget heavy and sloshy ice coolers and ice chests, and meet the latest portable Anywhere Fridge designed especially to keep your foods and drinks cold outdoors. Externally, it looks like a conventional outdoor freezer, but don't be fooled by its looks because it offers more than a regular fridge. This fridge is framed with insulated water-resistant aluminum metal frames which can be collapsed to a size as thin as a briefcase. It is also attached with retractable handle and wheels so that you can easily move it to any camping location, thus living up to its name.
Anywhere Fridge comes with detachable solar panels at top to charge a lithium ion battery module inside the machine. Using the solar power, this fridge can efficiently keep you eatables cold overnight. Other than the solar power, its battery can also be charged via a standard outlet or a car cigarette lighter. On its outer surface two USB ports are present that can further charge your small electronic devices.
Besides serving the purpose of fridge, it can also function as a food warmer, if required. It comes with a handy control panel that allows you to adjust temperature between -8 to 75 degrees Fahrenheit, allowing the machine to function either as a freezer, a fridge, or even a food warmer.
The fridge is available in variant colors and two different sizes- 80 quarts and 30 quarts, both of which collapse to five-inch thickness when you need to transport them. This portable fridge has successfully raised amount beyond its initial goal of $1,000 on Indiegogo and still 14 days are left for the campaign to end. You can pre-order it from its official website for $599 to double your fun at outdoor camps and parties with refreshing food and drinks.
Via: Engineering