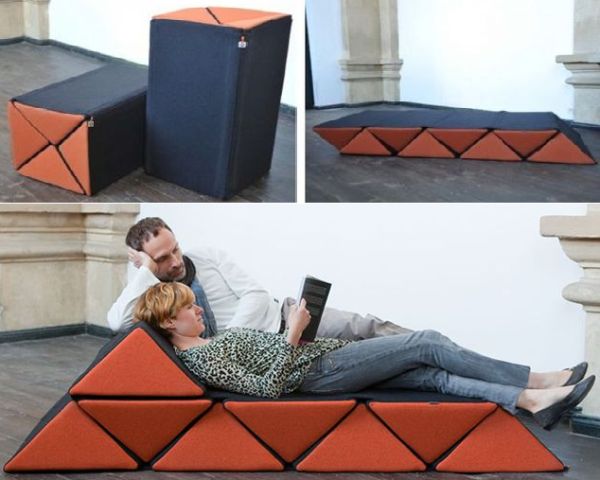 Tango Pouf, is a multipurpose seat created by Polish designer Ryszard Manczak. It consists of two rectangular cuboids of different dimensions and is made of soft polyurethane foam padding, covered with a wool lining. Tango Pouf is a playful furniture which can easily be transformed into a couch and a bed within fraction of seconds. Both these simple looking poufs have four hidden triangular shaped sections, which when opened up can be transformed to into a couch or a bed.
For transforming these seats into a bed or couch all you have to do is unzip the seats and open it. After opening, unite both its opened zig-zag sections to form a couch to relax or a bed to sleep. This transforming furniture can be used indoors or outdoors depending on where the user wants to place it.
You can sit, rest, relax or sleep anytime, anywhere in a home using this unique pouf. If you are not using the couch or bed then just fold it back to form a pouf. The pouf doesn't even require much space so can be kept in a living room or bedroom as a standalone seat.
Via: Behance